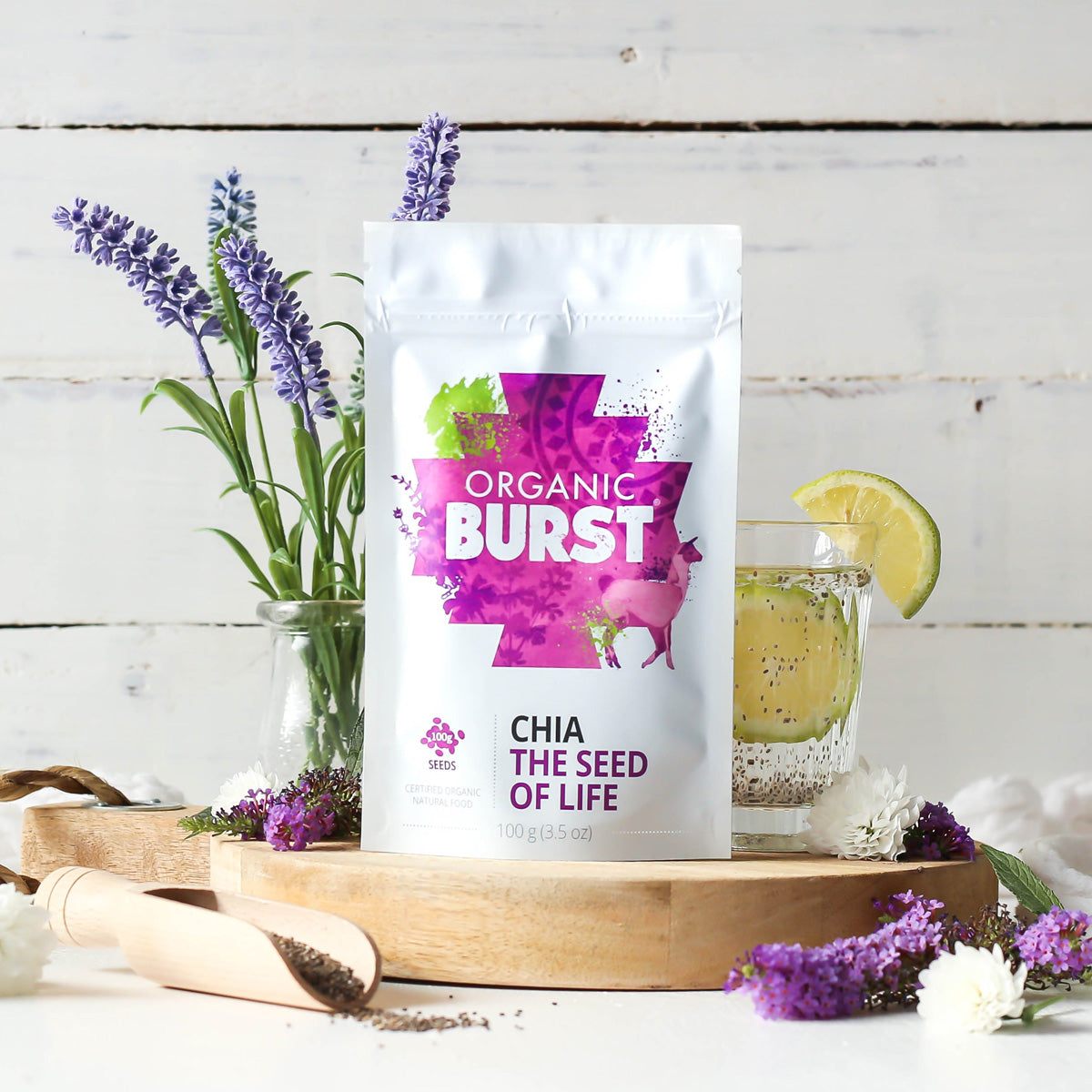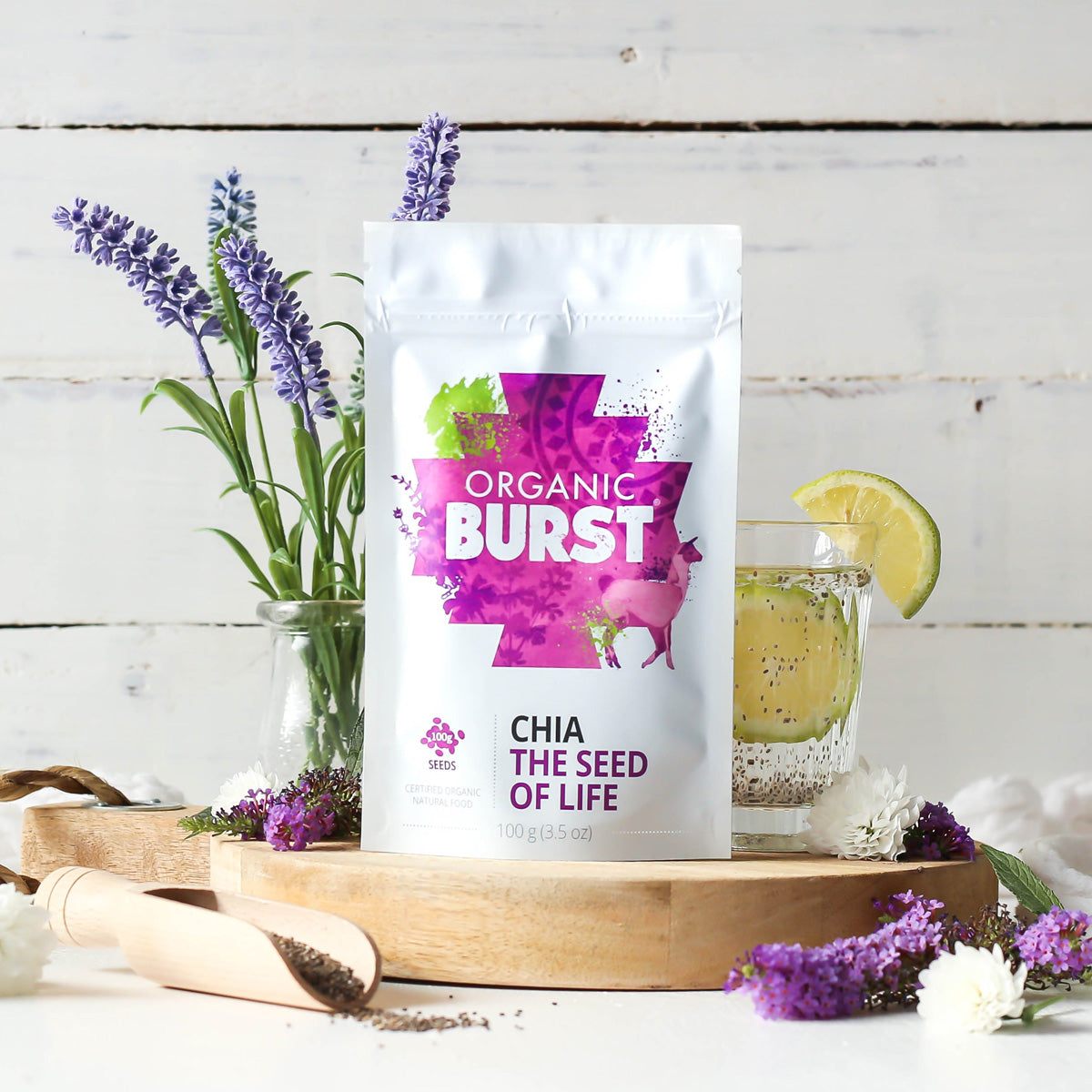 A tiny powerful seed cherished by the Aztecs that helps weight loss, healthy digestion & is the world's richest plant source of omega-3 essential fats!
Our superior quality Chia is sourced directly, helping organic farmers in Bolivia.
You'll
Love

How It Makes You Feel
The Highest Content Of Omega-3 Of All Plants
Organic Burst Chia Seeds contain 33.8% fatty acids, including the highest concentration of omega-3 alpha-linolenic fatty acids of any other plant!
Long Lasting Energy
The Aztecs got their strength and energy from Chia Seeds, they would eat them before going to battle or before a big hunt. Organic Burst Chia contains more than 33% fiber that helps shield the body from absorbing sugars too quickly for long-lasting sustainable energy!
Curb Cravings, Cut Portions & Lose Weight
Chia seeds are hydrophilic, which means they can absorb up to 10 times their weight in liquid to form a gel. So you'll be nourished, hydrated and your need for snacks will be forgotten, making it an ideal superfood on your weight loss journey!
Complete Protein Without Any Nasties
Organic Burst Chia is made up of an awesome 23% protein and is one of the only plant-based protein sources with all 10 essential amino acids, which we use as building blocks in our bodies.
Look After Your Heart
The amazing omega-3 essential fatty acids in in Organic Burst Chia helps your body maintain normal blood cholesterol levels.
Keep Your Tummy Happy
Chia's unique soluble fiber is amazing for your digestive tract and motility! Soak 1 serving of chia seeds in a large glass of water and have first thing in the morning, followed by more water and notice how it makes you feel!
"The Running Food"
Chia soaked in water is your perfect workout hydration! The amazing gel-like substance that chia creates in water prolongs hydration and helps the body retain electrolytes. No wonder chia was called 'the running food'!
"

I don't think I'd survive without my chia seeds these days! I love mixing them into my post workout protein drink"

@ichigoichielove, Instagram
As Nature Intended
Raw, Black & White Seed Mix
Our Chia seeds are a mixture of both black and white seeds! Exactly as nature intended them to be! If you look closely you will can see a marbled pattern on each seed, known to the Aztecs as 'wrinkling' 😀.
No Need To Grind
Organic Burst Chia seeds can be eaten whole – there is no need to chew, grind or crush them for your body to utilize all the nutrients.
Never Rancid
Organic Burst Chia is high in antioxidants preventing the fats from going rancid unlike other seeds. In fact it can keep for over 2 years from harvesting!
Directly Traded Chia
Hear from Katya, our Co-Founder, on how Chia changes local farmer's lives...
Creating Jobs & Providing Life-Changing Income & Skills
Chia seeds are an ancient crop of Central and South America. Through direct trade with our Chia farm, we can help bring more freedom to the local people through life-changing income and increasing awareness of the importance of organic farming.
Because of chia they are now no longer dependent on the 4 global price sensitive crops: wheat, rice, corn and soy.
Our Chia farm provides year-round employment to the people of one of the poorest regions of South America with over 45% living below the poverty line on just $2 per day. Through our farm alone over 80 jobs have been created.
The Perfect Location for a Super Powerful Chia
Organic Burst Chia is grown in the Gran Chaco region in South America, 400 meters above sea level. This dry forest provides highly fertile soil, optimal rainfall and high altitude, which make it ideal for growing amazing Chia Seeds with a high percentage of plant-based omega-3 fatty acids!
Grown On Land That's Never Seen The Use of Pesticides
Our farmers are dedicated to organic farming and caring for their lands. So our Chia is not only amazing for you but it also gives back to the planet through supporting biological diversification! Our farm has many animals living peacefully on it and has even seen an increase in the number of honeybees in the area!
How To Choose Chia That Does Not Cause Side Effects
Chia absorbs all the water around itself so if there is any moisture in the environment the water gets in, quickly developing molds and yeasts that remain in your chia while you're taking it and finding its way inside your body where it may cause an array of negative health effects: from weight gain to headaches and digestive issues.
Chia that is grown commercially in less than perfect conditions and handled with less care is highly likely to be filled with molds and yeasts!
That's why at Organic Burst our Chia comes from a very special location: grown in dry climate and altitude that do not contribute to the growth of molds. We then store and transport our chia in a very specific way that makes sure the moisture does not get in at any point.
For extra reassurance our chia is tested rigorously at every stage of its journey to our Chia bag and is constantly confirmed free from molds and yeasts.
So you can rest assured that you're getting only the goodness of chia without any toxicity!
How to Take?
Pure
Just add 1 serving (1 tablespoon) of Chia Seeds to any drink and boost your liquids with nutrients!
Super Charge
Blend into smoothies, sprinkle onto salads, make a Chia pudding or stir into soups and yoghurts.
Or... Get Creative!
We have loads of delicious free Chia Seed recipes for you to get adventurous with! The kitchen will never be the same again!
...for more yummy Chia recipes check out Choc & Juice, our online world of wellbeing.
When To Take
Easy
Take any time of day when you feel you need a burst of power! Add 1 serving (1 tablespoon) to your smoothie, water, or sprinkle on your meals.
Pro
Make a super breakfast with 2 servings of Chia Seeds soaked in a nut mylk of your choice - you could add some cinnamon and fruit to jazz things up!
WEIGHT LOSS: Add 1-2 servings (1-2 tablespoons) of our Chia Seeds to a glass of water with a squeeze of lemon juice, soak for 15 minutes and have 1 hour before meals. Alternatively soak Chia in unsweetened cashew milk and have between meals when you feel like a snack.
FITNESS: Add 1 serving (1 tablespoon) of Organic Burst Chia to your water bottle and drink before and during a workout to stay hydrated.
DIGESTION & REGULARITY: Soak 1 serving (1 tablespoon) of Chia Seeds in a large glass of water overnight and have first thing in the morning, followed by more water.