Super Turmeric (Bundle)
by

Organic Burst
Super Turmeric (Bundle)
by

Organic Burst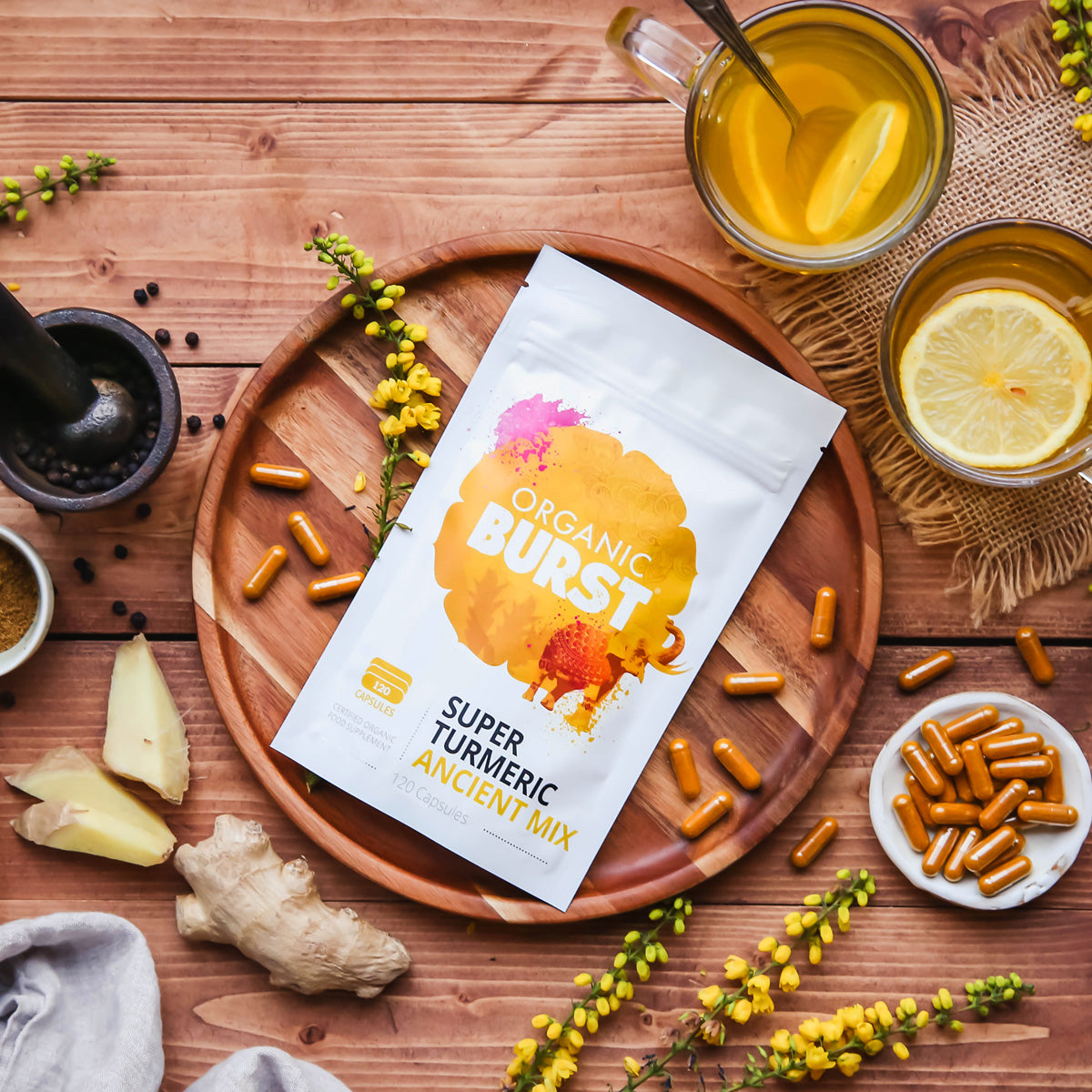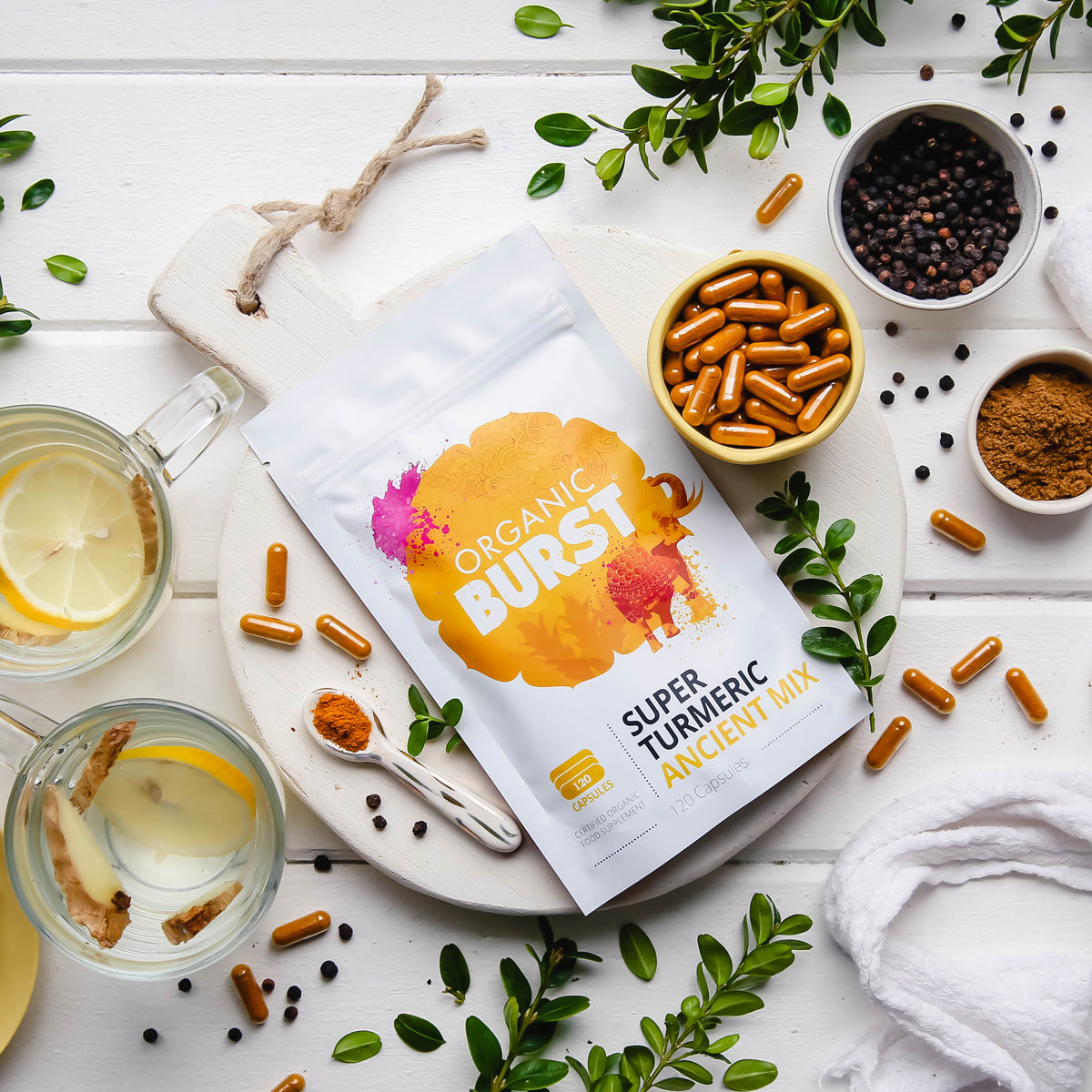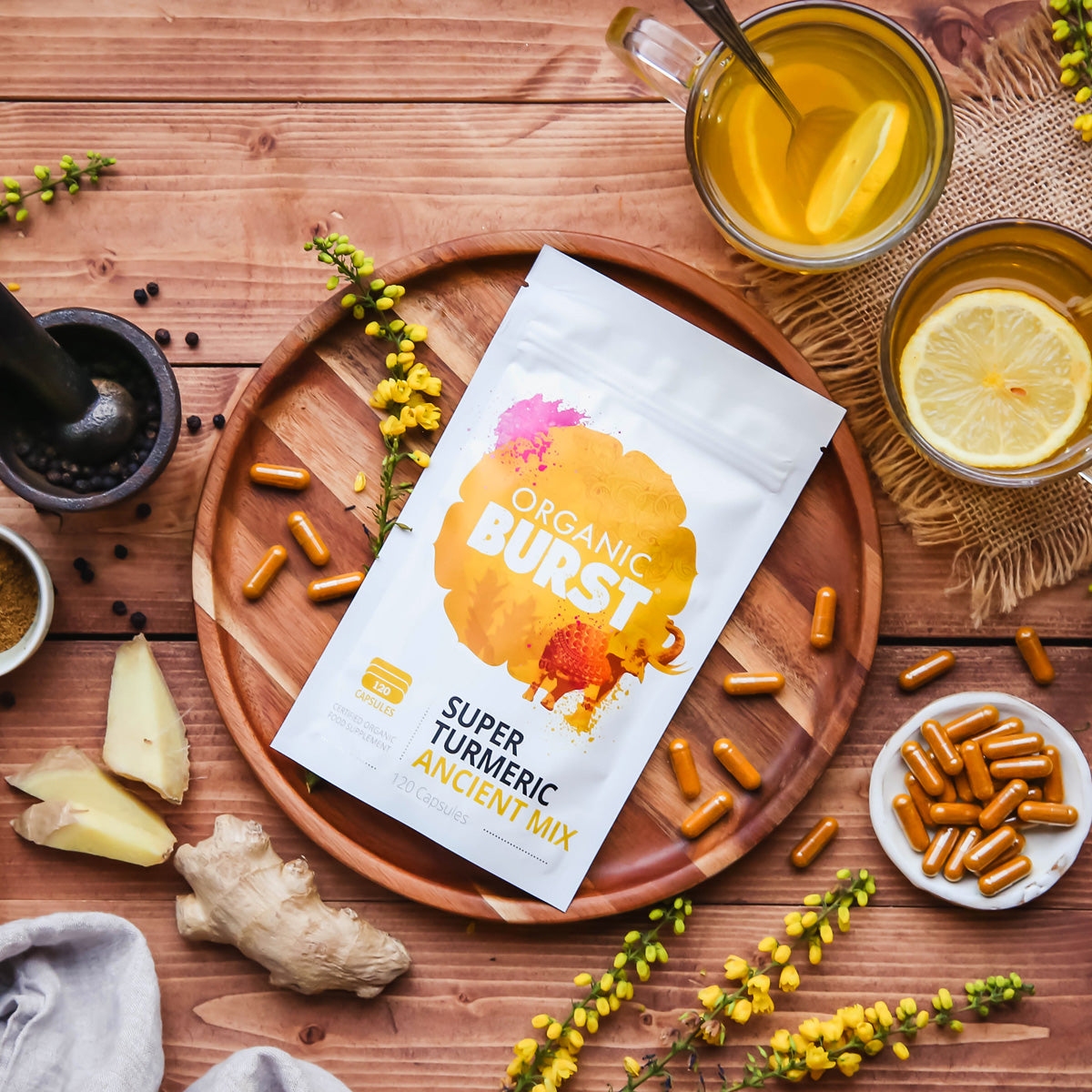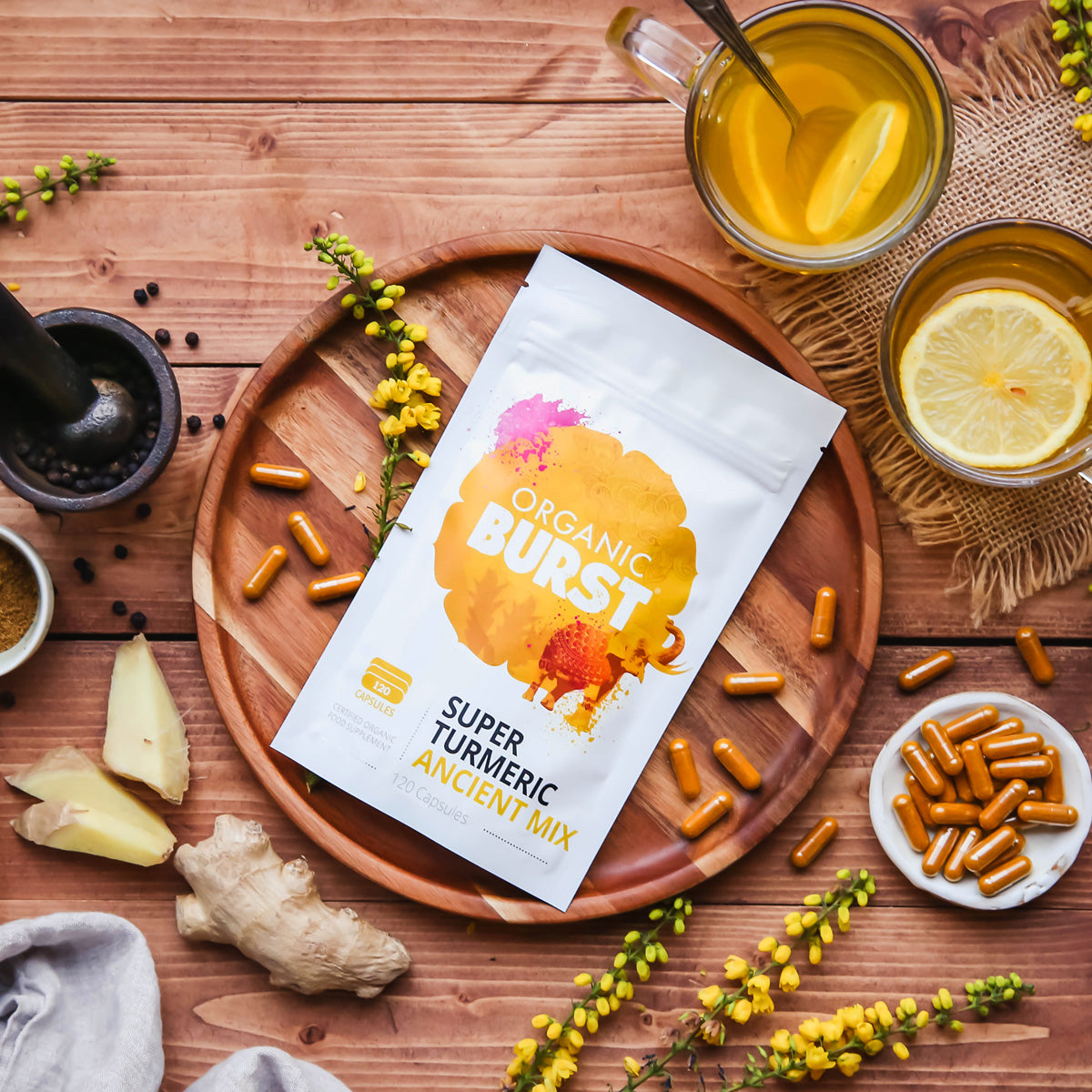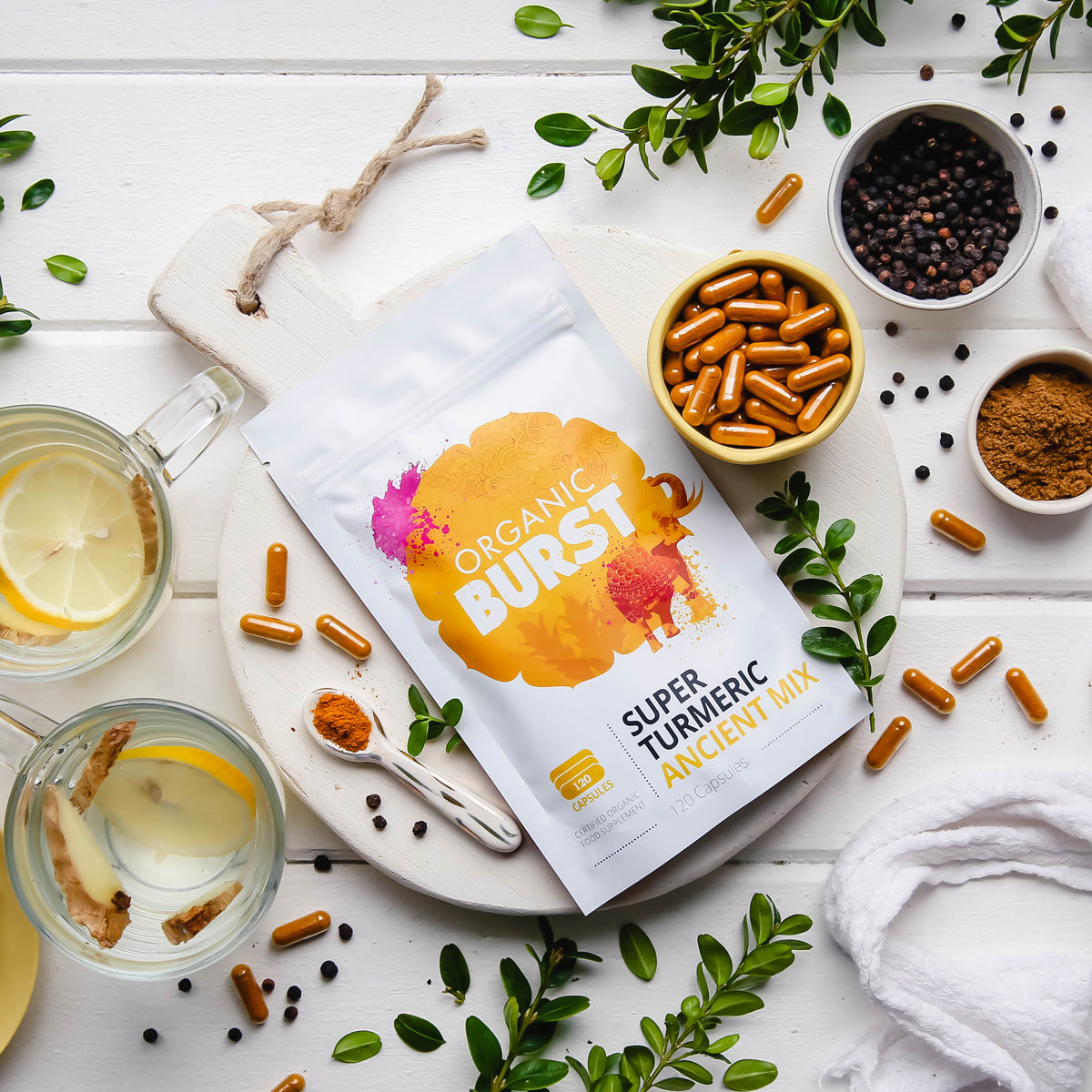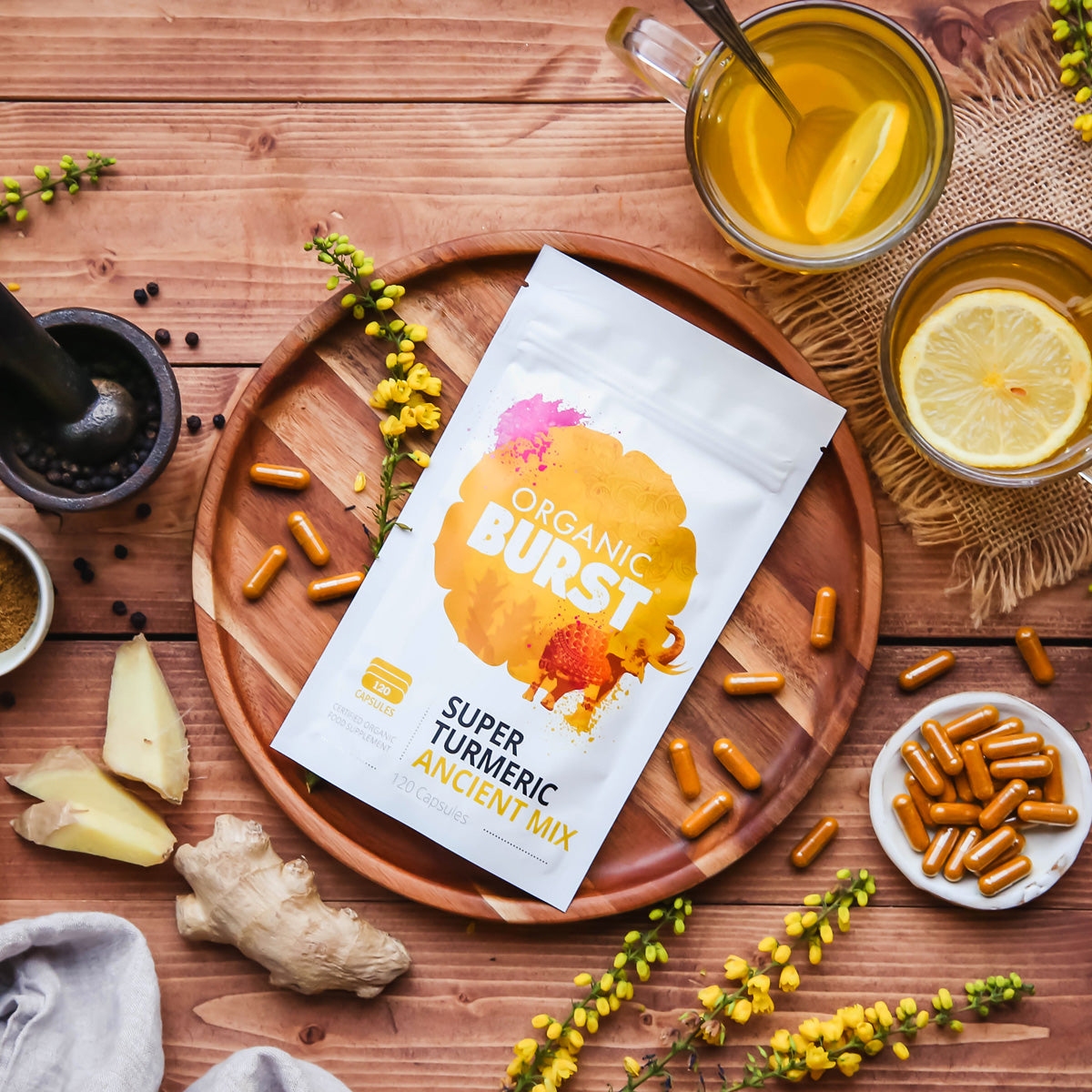 Our most powerful Turmeric Burst, supercharged with ginger, cumin & black pepper for enhanced health benefits.
We've combined our heirloom organic turmeric with these organic spices from Sri Lanka, recreating a potent ancient mix.
Ancient Spices, Prized in Ayurveda
For our Super Turmeric we have combined our heirloom Sri Lankan turmeric with cumin, ginger and black pepper. These ancient spices have been used together with turmeric for thousands of years to further boost its powerful benefits.
Today they are called 'bioenhancers' as studies have found them to boost the effects of nutrients in the foods they are combined with.
One of the most researched plants in history with over 14,425 published studies
Turmeric and its famous compound - curcumin - have inspired scientists all over the world for the better part of a century to investigate the extent of their powers on the human body. Turmeric is one of the most studied plants in history, and so far, there are over 14,425 studies associated with it.
As a natural, whole plant, turmeric is packed with hundreds of biologically active compounds, not just curcumin! Some of the other phytochemicals present in turmeric include alpha-turmerone, beta-turmerone and turmeric oil which all have similarly effective and impressive properties to the more well-known curcumin. And, you guessed it, all of them work together in natural synergy for even better results.
You'll
Love

How It Makes You Feel
FORGET REDNESS, BREAKOUTS, IRRITATION AND FLAKING SKIN
Red, itchy and flaking skin can make you feel self-conscious as well as uncomfortable. Not cool! We've reviewed 13 studies published over the last 20 years that involve curcumin improving flaking and itching skin.
For example, a 2018 study published in the Journal of Cosmetic Dermatology found turmeric to significantly reduce skin irritation, redness, flaking, scaling and to "improve the patients' quality of life".
PUT THE LIFE BACK INTO YOUR HAIR AND SCALP
Thinning, flat, lifeless hair is often a result of a suffering scalp! There are many factors that affect the health of your scalp including existing skin conditions, diet and environmental toxins.
Turmeric has been shown in studies to support the skin's natural ability to regenerate, it is protective against environmental pollutants and even fungal factors that affect scalp health.
HAPPY MOON CYCLE
Many women dread their "special" time each month, but it doesn't have to be so. A 2015 study published in the Journal Neuropeptides found curcumin to reduce the overall negative experiences associated with menstrual cycles by 61% - within just 1 cycle!
They measured a reduction in negative behavior by -63%, negative mood by -68% and physical issues by -55%.
Two earlier studies published in the Indian Journal of Biochemistry & Biophysics (2009) and the Journal Phytotherapy Research (2011) also linked curcumin to helping with cramps associated with menstrual cycles.
PROTECT FROM OXIDISED OILS & PESTICIDES WHEN EATING OUT
We don't all have the luxury to always cook our own food and know each and every ingredient that goes into our meals.
Sadly many restaurants and food outlets still cook on vegetable oils which we now know oxidise when exposed to heat producing dangerous free radical particles that wreak havoc in our system.
A 2010 study linked curcumin to reducing negative effects from oxidised sunflower oil.
Unless eating strictly 100% organic or unsprayed food, there are likely going to be pesticide traces in the ingredients. We've reviewed 8 studies published between 2009 and 2018 that have found curcumin to help against the negative effects of pesticides: insecticides, fungicides and herbicides.
STRONG IMMUNE SYSTEM
Multiple studies have found curcumin to support immune function helping you stay strong and sneeze-free even through the toughest seasons.
HELP WITH HEADACHES
A 2017 study published in the Journal BioMed Research International links the constituents found in turmeric to helping with headaches.
OPTIMAL WORKING MEMORY & LEARNING ABILITY
Memory and the ability to learn seems to slow as we get older due to ongoing stresses of life. The amazing news is that multiple studies have now been published that link turmeric to helping keep our working memory ticking over in optimal condition.
Furthermore, a 2009 study published in the Journal Biochemical Pharmacology linked curcumin to increased learning ability through "improved acquisition and consolidation" of information.
REDUCE MUSCLE PAIN POST WORKOUT
Some love "the burn" but most of us just want post-workout aches and pains to go quickly. Luckily for those in the latter group, a 2015 study published in the European Journal of Applied Physiology found that, "at 24 and 48-h post-exercise, curcumin caused moderate-large reductions in pain…"
ANTIOXIDANTS
There are currently 411 published studies across an abundance of scientific journals showing the antioxidant effects of turmeric.
Our bodies need antioxidants to protect our cells from free-radical damage. Free radicals, or oxidants, are found in the environment (pollution, cigarettes, alcohol), plus our own immune system produces them when fighting off infections.
Because free-radicals attack our cells, they cause damage and decay, so in swoop antioxidants from whole plant foods in our diet to mop them up!
Turmeric is known to be one of the most antioxidant-rich foods in existence.
MORE DHA FROM PLANT-BASED FOODS
Those on a plant-based diet are often told that they're likely low in DHA as it's not found in plant-based foods and needs to be synthesised by the liver.
Good news! A 2015 study published in Biochimica et Biophysica Acta found that curcumin increased DHA synthesis from ALA in the liver – highly significant for those on vegetarian or vegan diets.
FEEL HAPPIER, MORE POSITIVE & MOTIVATED
We've reviewed 14 studies published across a number of science journals since 2005 that shown curcumin can lift mood and bring back that spark of motivation and a positive mindset.
STAY STRONG & KEEP COOL WHEN OVERWHELMED
The ability to just take a deep breath and approach situations with a clear mind can feel impossible even for the most Zen person you know.
Many studies have shown curcumin to help reduce the feelings of being overwhelmed and give you the strength to face your daily challenges head on!
COOL DOWN YOUR BODY'S OVERREACTIONS
Our bodies respond quickly to triggers like stress, pollution, unhealthy eating, poor gut health, allergens, alcohol, smoking, injuries and more by setting off a cascade of immune responses. These include driving blood filled with immune cells to the area = swelling, redness, pain. Ouch! Skin irritations and sneezing are common responses too.
Although this physical reaction is positive in an acute situation, for instance to help heal a wound, ongoing low-level triggers mean the reaction continues and its results significantly impact wellbeing and quality of life.
There are currently 332 scientific studies showing turmeric or its constituents having the ability to down-regulate this process.
WHITER TEETH AND A STUNNING SMILE
Turmeric is popular in the wellness world when it comes to oral health and white teeth. In fact, many experts choose it as a natural teeth whitener – simply dip your wet toothbrush in a little turmeric, brush, rinse, then follow up with your usual paste/powder. Try it for a few days and notice the difference!
Numerous studies cover how turmeric protects all the tissues of the mouth, including teeth.
In a 2012 study published in the Journal of Indian Society of Periodontology, researchers found that curcumin reduced plaque, gum irritation and bacteria when used in a mouthwash.
The other great news was that if some of the mouthwash was accidentally swallowed, it would not result in any negative effects!
Bursting

with Curcumin 🎉
Up To 5.1%, for Mighty Health Effects

Our turmeric contains up to 5.1% curcumin - its super powerful compound - that is 3.4x more than the average!

According to a review in the Journal Nutrition and Cancer the content of curcumin in turmeric powders usually ranges between 0.58% and 3.14% (averaging 1.51%).

Such a high content of curcumin in Organic Burst Turmeric is due to the perfect location where it's grown + the superior methods of organic and traditional cultivation and harvesting that our family farmers use.
Packs a punch


👊 Up to 2.7x more concentrated than average turmeric powders

Our turmeric powder is up to 2.7x more concentrated as we use 8kg of fresh turmeric to produce 1kg of Organic Burst Turmeric powder. This means you get 2.7 x more amazing health effects in the same daily serving of your Organic Burst Turmeric!

To compare - the industry standard is normally only 3kg - 4kg fresh turmeric to 1 kg of powder.
Free from Metanil Yellow 😷 - A Harmful Common Additive
Our Turmeric is tested and confirmed free from the harmful toxic azo dye Metanil Yellow, an artificial colouring often found in turmeric powders to give a brighter yellow colour. Our turmeric is always naturally vibrant and bright.
Studies have linked the consumption of Metanil Yellow to liver cancer, neurotoxicity, tumour development and lymphocytic leukaemia.
We also do not add any iron oxide or sulphur - which are frequently added to turmeric products.
Authentic
Sri Lankan Heirloom Variety
Our turmeric is an authentic Sri Lankan heirloom variety – famous for its thin and delicate roots that Nature designed to help the plant absorb more nutrients and water from the soil.
Harvested At Peak Ripeness for Potency
Our turmeric is harvested at its nutritious peak– this is the point at which it has grown its beautiful purple flowers, they've already been pollinated by local bees and have started to dry out.
Choose Kindness


Supporting a Community
Affected By the Civil War

When you buy Organic Burst Turmeric you know you are making a direct positive impact to a wonderful community of 92 local Sri Lankan family farmers that grow and harvest our Turmeric.

The community got badly affected by the civil war, which took away many lives and wrecked the infrastructure. Things have returned to peace since, however support is required to restore the area to its past norms and develop it further.
Authenticity and Provenance


Grown on Sri Lankan Soil

There are sadly many turmeric products labelled as being from Sri Lanka that are actually grown in other countries such as Vietnam but exported via Sri Lanka for marketing purposes.

With our turmeric you can be certain that it always comes from Sri Lanka as we engage in direct trade (without any intermediate resellers, that are super common in the industry) and actually know our amazing farmers.
Unique Turmeric-Enhancing Climate


The Ampara Region is ideal for growing more powerful Turmeric

Ampara, the region in Eastern Sri Lanka where our turmeric grows, has the perfect balance of tropical heat, rain and humidity for a superior turmeric.
HOW TO TAKE?
Go Commando
Simply have 1-2 servings (4-8 capsules) daily with water.
WHEN TO TAKE?
Easy
The key is consistency! Take your Super Turmeric daily - don't worry whether it's in morning, afternoon or evening. Just have 1-2 servings with water.
Pro
Feeling like a superfood pro? Then let's start some optimization!
EASY MOON CYCLE: Increase to 2-3 servings at least 7-10 days before your period & throughout.
EATING OUT? Have 1 serving before your meal for protection from oxidised oils and pesticides.
FEELING OVERWHELMED? Have 1-2 servings for quick results.
OPTIMISING BRAIN POWER: Start with 1 serving at breakfast daily. Increase to 2 servings if more support is needed.
PRO WORKOUT RECOVERY: Have 1 serving before and 1 serving after your workout. Follow with 1-2 servings per day for 2 days after your workout.
Organic Burst
Super Turmeric (Bundle)