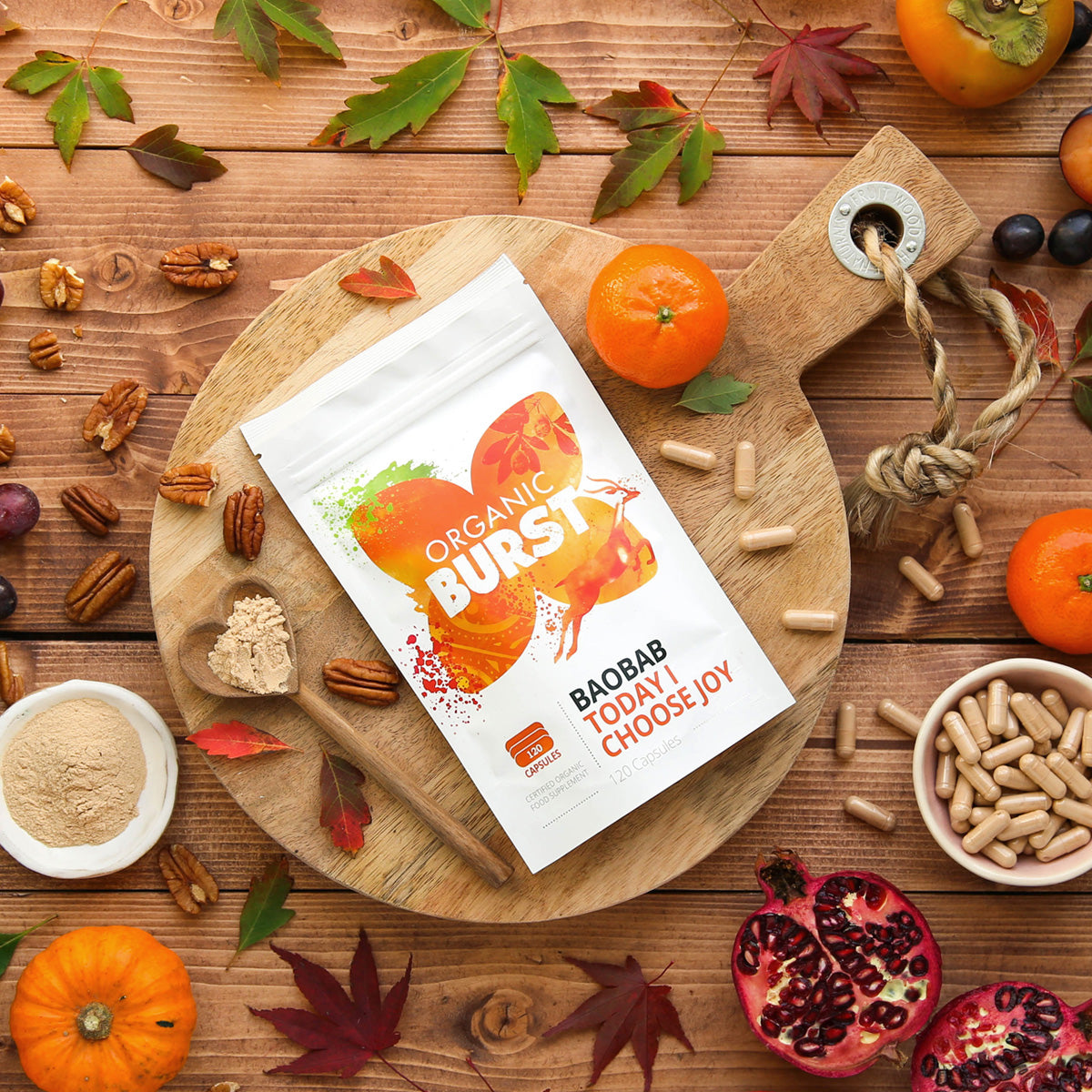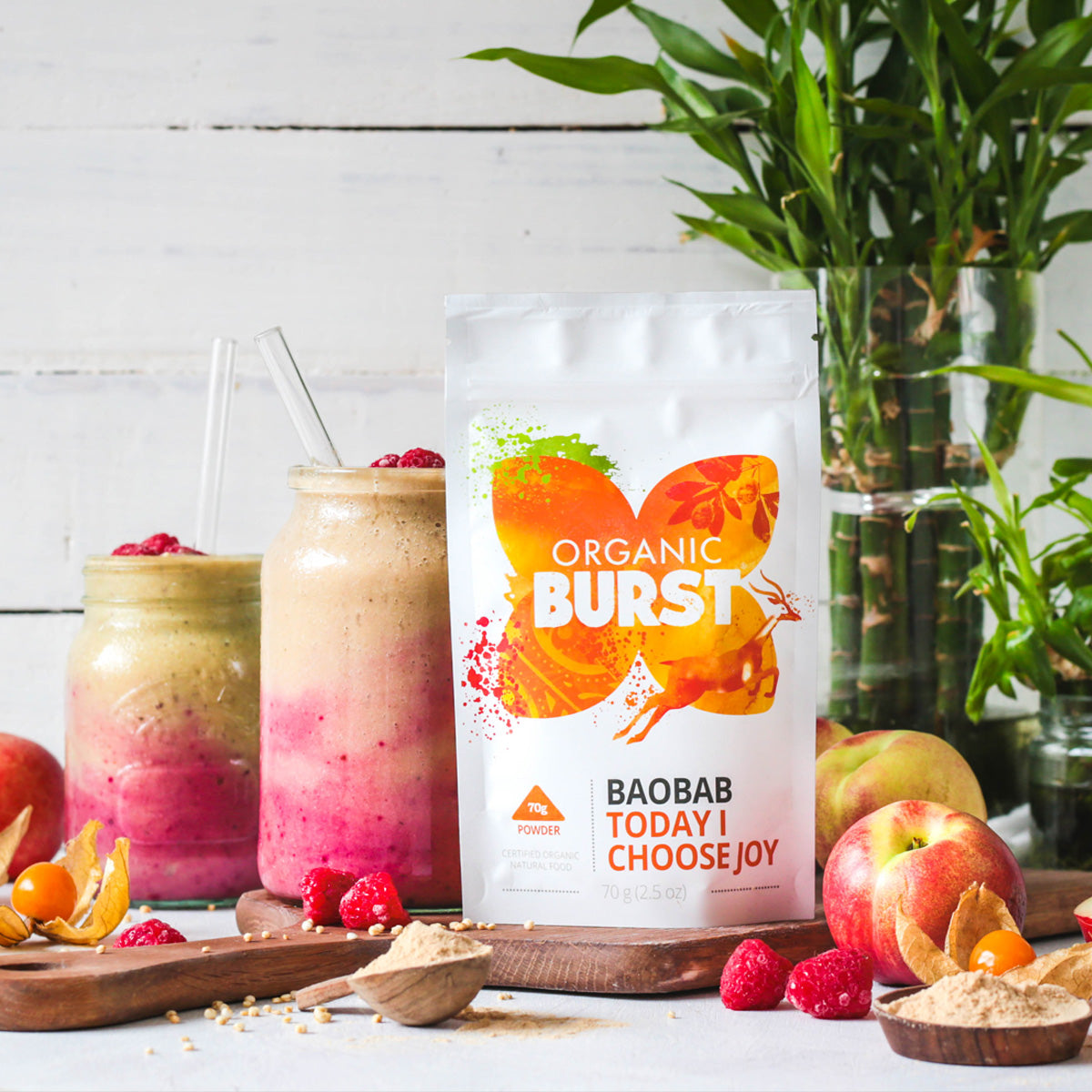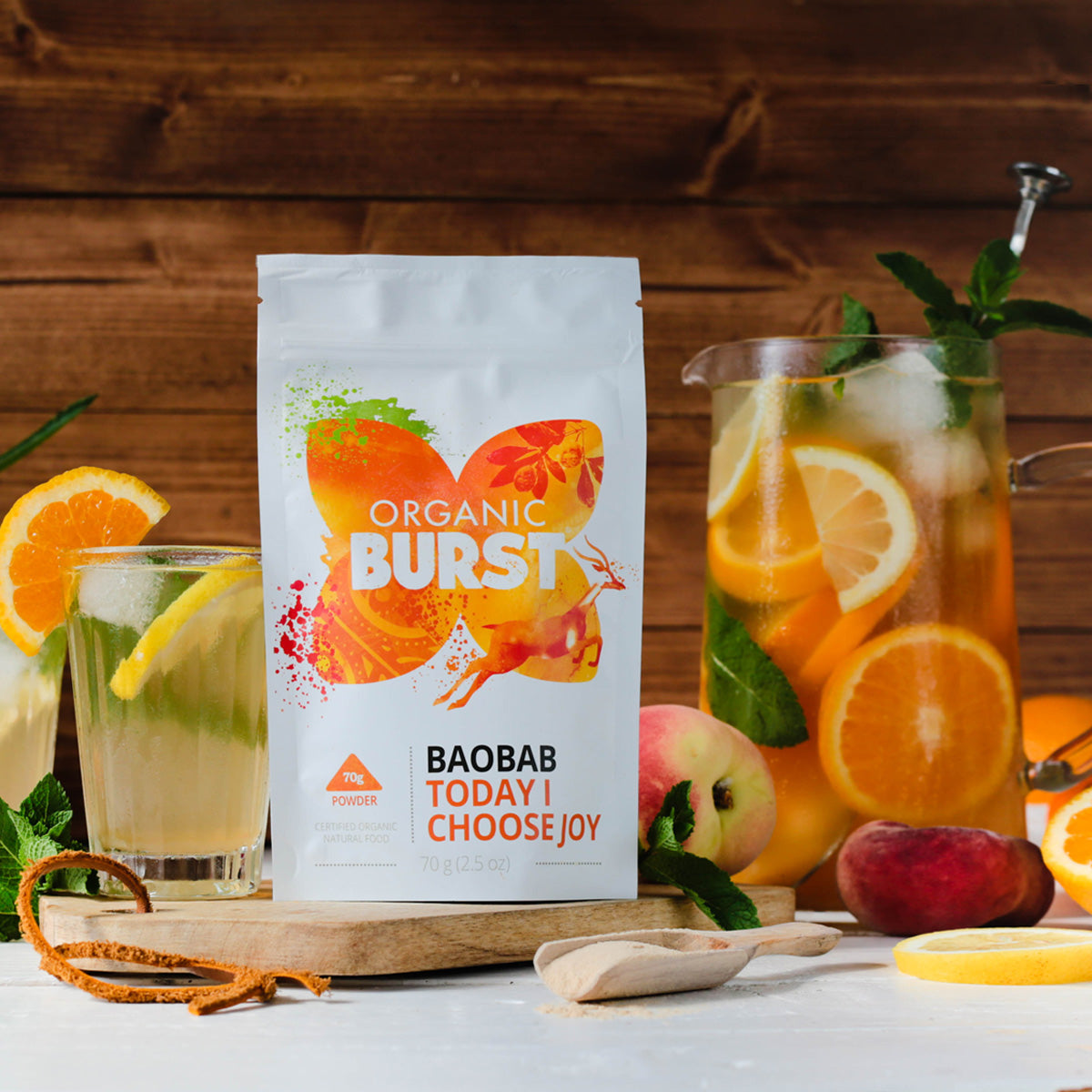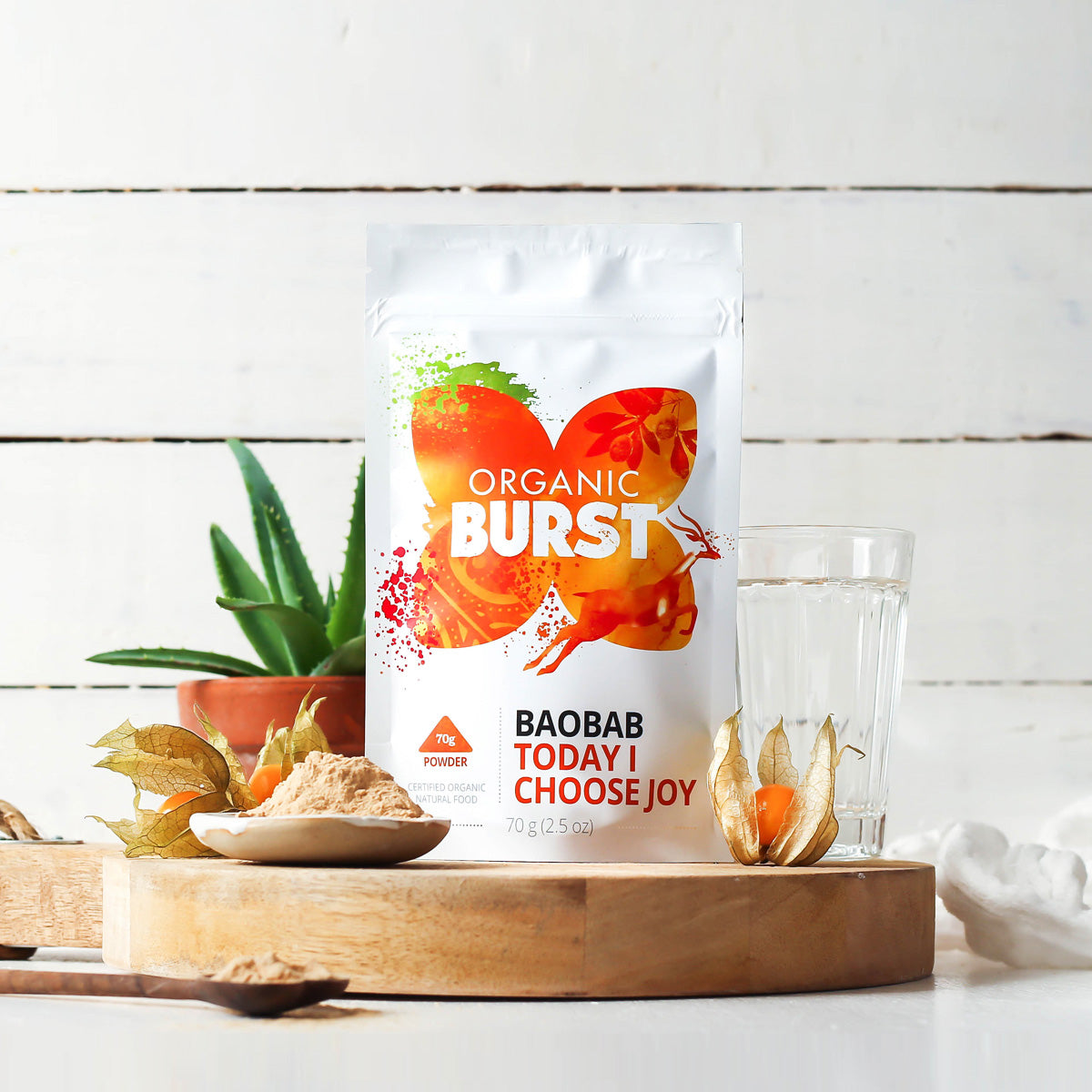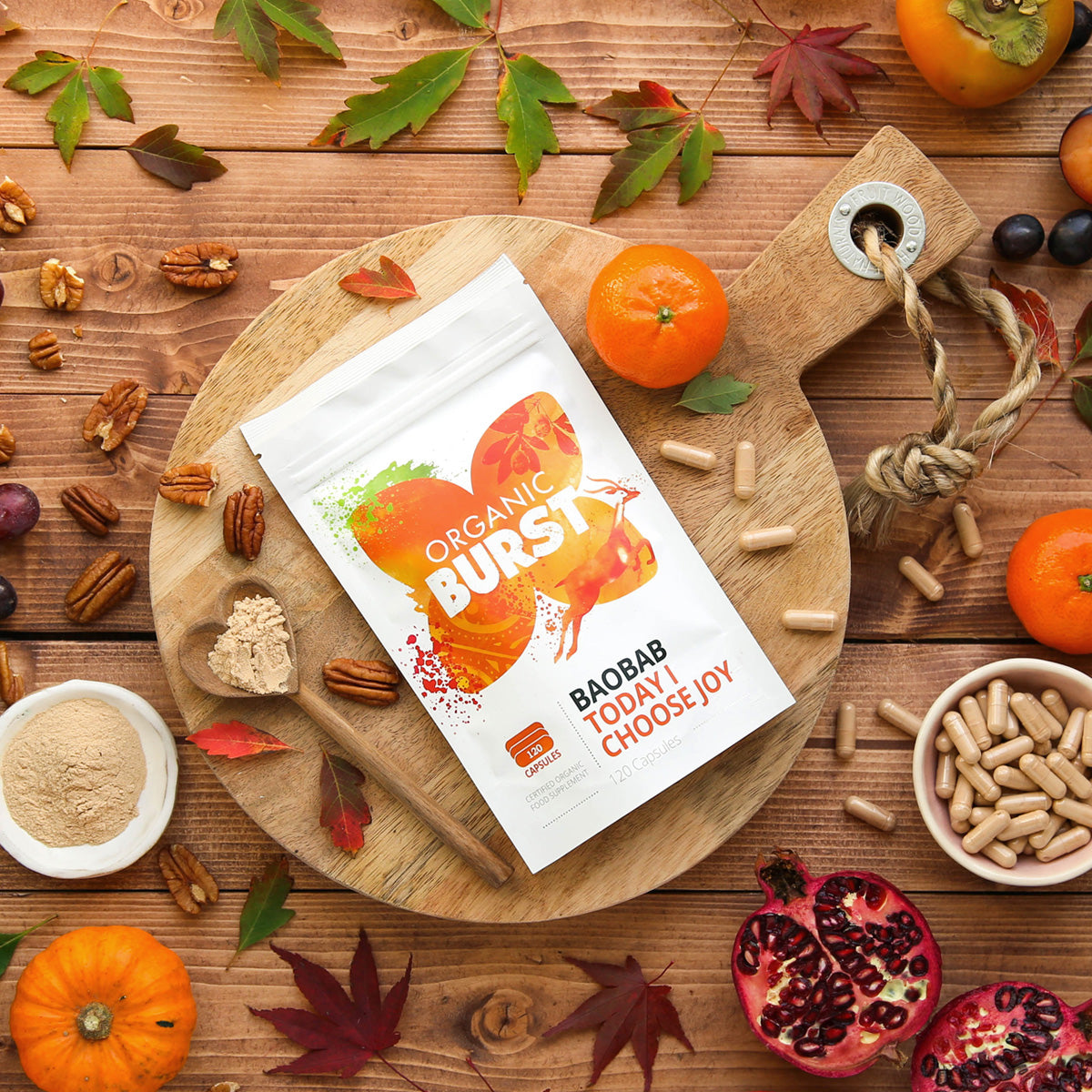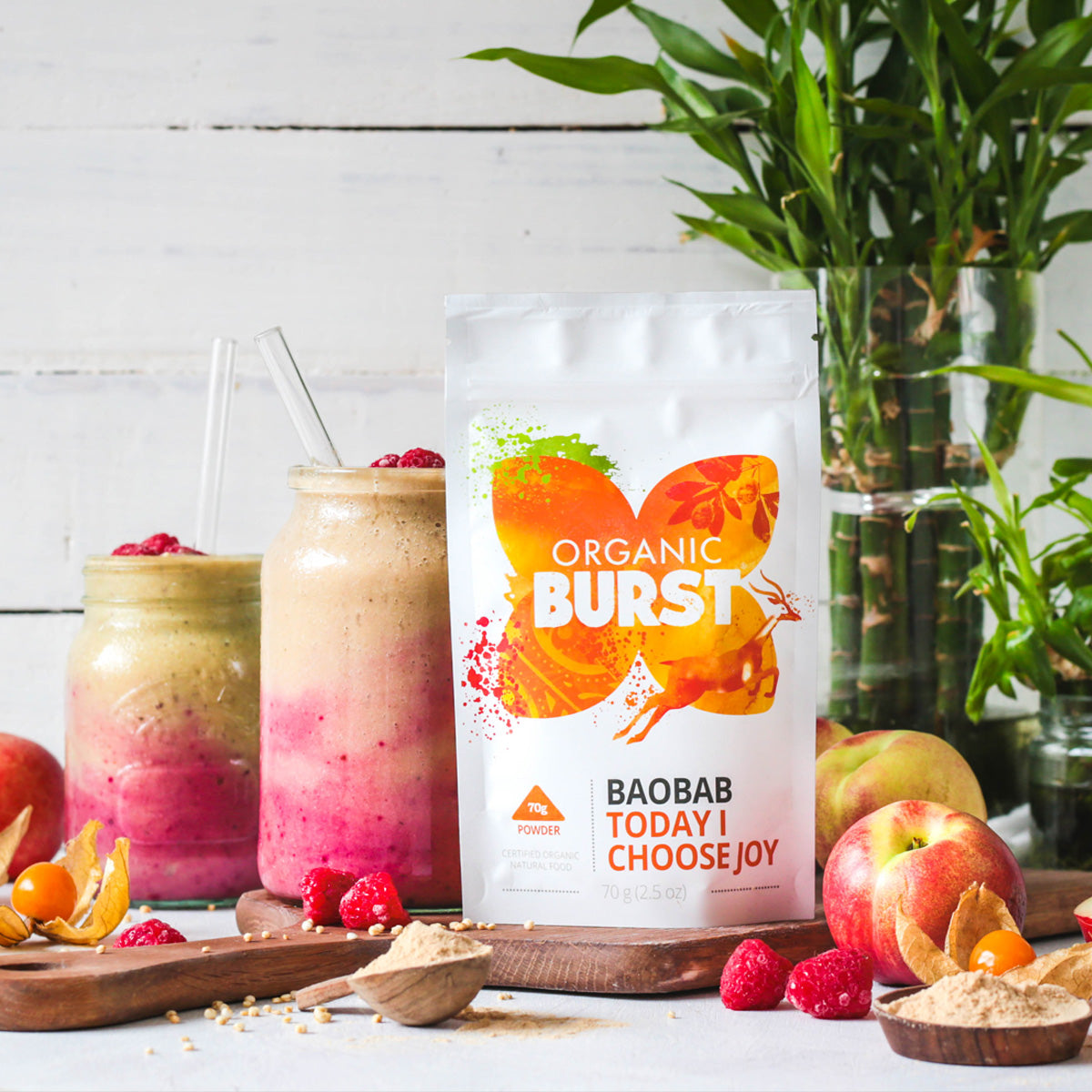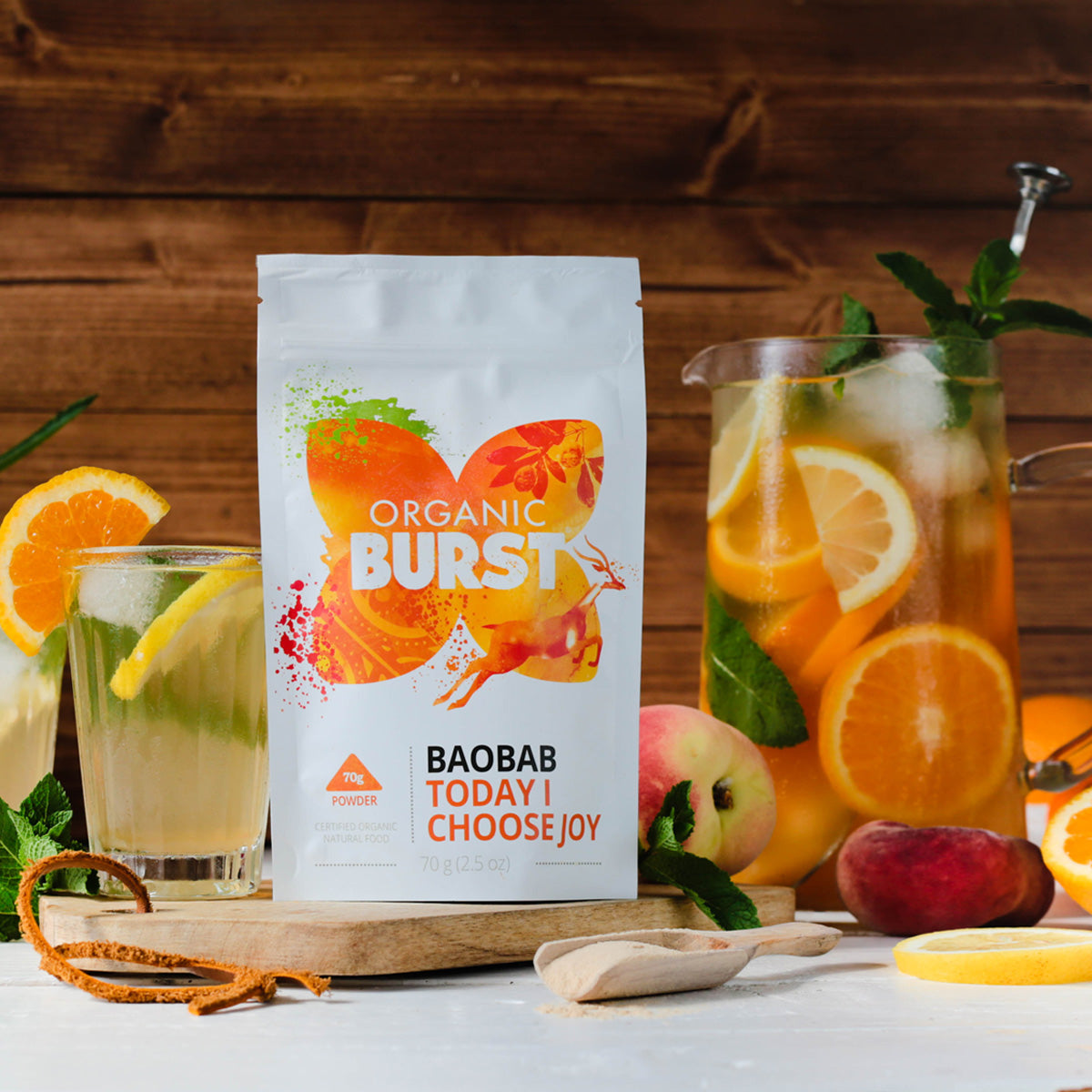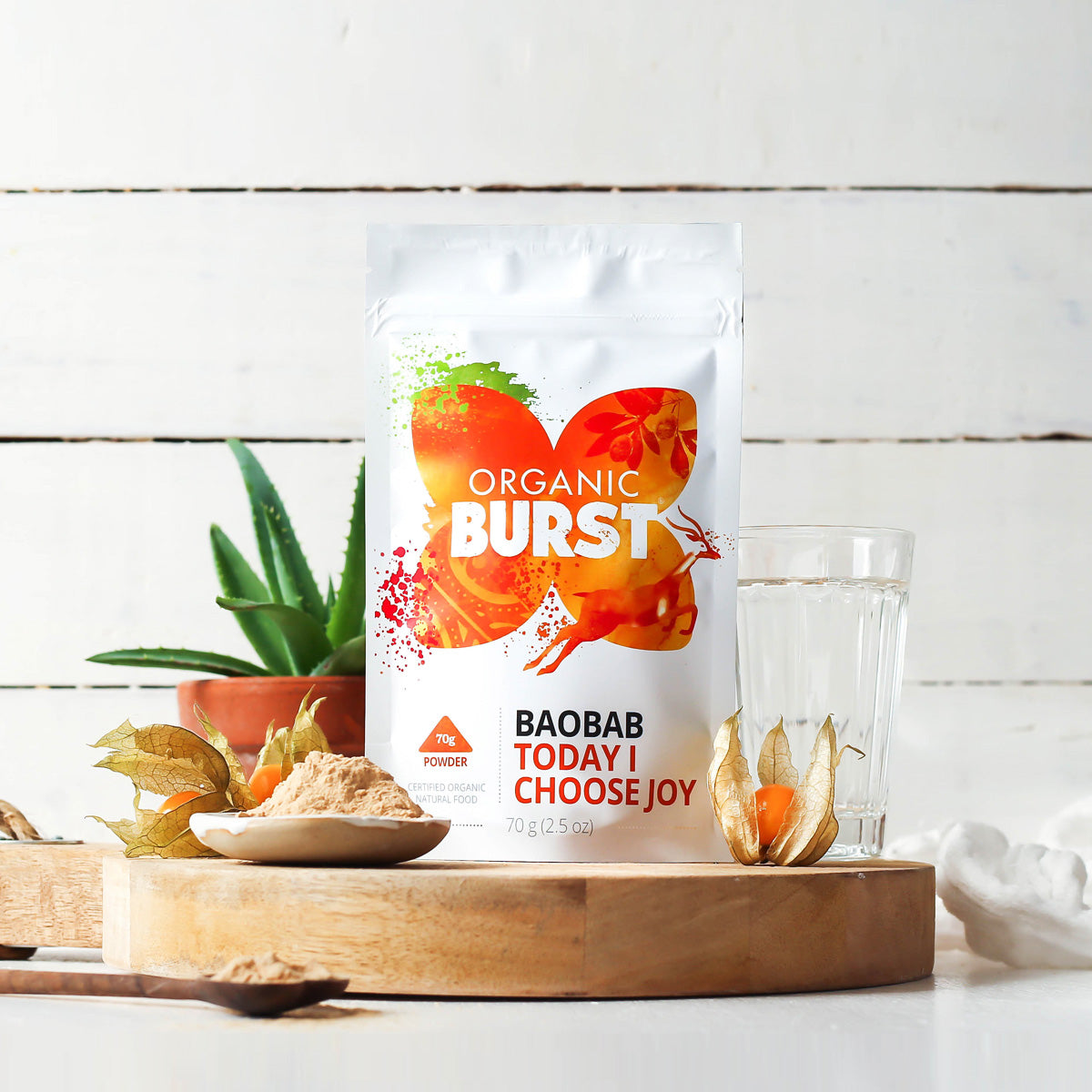 Flood your body with nutrients for alertness, energy and immune system support with this pure, raw fruit powder.
Organic Burst Baobab powder comes from majestic Baobab Trees on organic reserves in Zimbabwe. It has been treasured for centuries in Africa thanks to its brilliant health benefits.
"

You hold us in your hand with strength, thank you, you hold us in your hand."

Many of our harvesters are mothers from struggling village communities in Zimbabwe, who are now providing life-changing incomes for their families.

We work with a non-profit organization PhytoTrade Africa that aims to eliminate poverty through a sustainable and ethical Baobab trade. This means our harvesters are paid a premium wage for their work on the organic reserves.

The song these inspiring ladies sing in our video (which they kindly let us film) is about gratitude for their recent Baobab harvest and sale at a fair price.

Here are the words: "Mukoma Dugi, vanotibata ne ruoko nesimba, tatenda, vanotibata ne ruoko". This means "You hold us in your hand with strength, thank you, you hold us in your hand".⁠
You'll
Love

How It Makes You Feel
Wake Up & Feel Amazing
Tired and depleted? You'll feel alert and alive again in no time with energising Vitamin C and iron in our Baobab.
Combat Acidity From Coffee, Soda & Processed Foods
If you've been eating out or drinking too much coffee, cola or alcohol, maintain the best alkaline balance for your body with Organic Burst Baobab!
Stay Strong
If you're sick of feeling "bla" and catching every bug that's flying around, give your immune system support with the natural Vitamin C in Organic Burst Baobab. Plus Organic Baobab's natural Vitamin C is non-acidifying, unlike synthetic Vitamin C.
Stay Hydrated
Do you forget to drink enough water? If you're feeling dehydration headaches and your energy is wilting, add Organic Burst Baobab to your water bottle for great taste, hydration, plus magnesium to support your electrolyte balance.
"

The main thing I've noticed from the baobab powered is the energy I have. I've gone from not being able to complete a one hour cycling class to completing the cycling class and doing weight training after!

I'm also able to take my daughter for bike rides after leaving the gym! I mix 1tbs with a 16.9 oz bottle of water and I drink it during my exercise. It taste so good and it mixes well with water, no clumps or gritty feeling in your mouth while drinking."

Kimberly, Yokosuka, Japan
Seriously Tasty
Sherbet-y, Tangy & Slightly Citrus-y!
Our Organic Baobab comes straight out of the fruit pod - just like that! Seriously – all we do is take away some stringy fibres and you're left with pure, delicious, raw fruit powder with all the Vitamin C and enzymes preserved 🙌.
It has a slightly sweet, citrusy, flavour that adds a refreshing zing to water, juices and even savoury recipes.
Direct Trade
Providing life-changing income for poor village communities in Zimbabwe
Changing Lives Of Local People In Zimbabwe, Africa
By buying Organic Burst Baobab, you're helping provide life-changing income for poor village communities in Zimbabwe. We work with PhytoTrade Africa, a non-profit organization that aims to eliminate poverty through a sustainable and ethical Baobab trade. Organic Burst Baobab comes from organic reserves where our harvesters are paid a premium wage. As the Baobab trade grows local harvesters are able to build homes and offer their children school education.
Preserving The Majestic Baobab Tress & Biodiversity
Baobab trees live for over 1000 years and are cherished by people across Africa. With Organic Burst you can be sure that these stunning trees are never over-harvested and their entire ecosystem is protected. PhytoTrade Africa also ensures the global best forestry techniques are in place so that the supply of Baobab is managed sustainably for the long term.
How To Take?
Pure
Simply stir 1 serving (1 teaspoon) into a glass of water. It tastes sherbet-y, tangy and slightly citrus-y 😋!
Super Charge
Mix 1 teaspoon of Baobab powder to super charge your smoothies, juices, a workout-shakes, yoghurt or even salad dressings!
Or... Get Creative!
We have loads of delicious free Baobab recipes for you to get adventurous with! The kitchen will never be the same again!
...for more yummy Baobab recipes check out Choc & Juice, our online world of wellbeing.
When To Take?
Easy
Keep it simple. The most important thing is to take your Baobab consistently and daily - don't worry whether this is in the morning, afternoon or evening. Just take 1 serving with any meal.
Pro
Feeling like a superfood pro? Then let's start some optimization!
MORE ENERGY AT WORK: Have 1-2 teaspoons Baobab in a glass of water and sip after lunch (especially if you had coffee).
FITNESS: Mix 2 teaspoons in your bottle of water to flood your body with natural electrolytes and hydrate during your work-out.