Acai Berry
by Organic Burst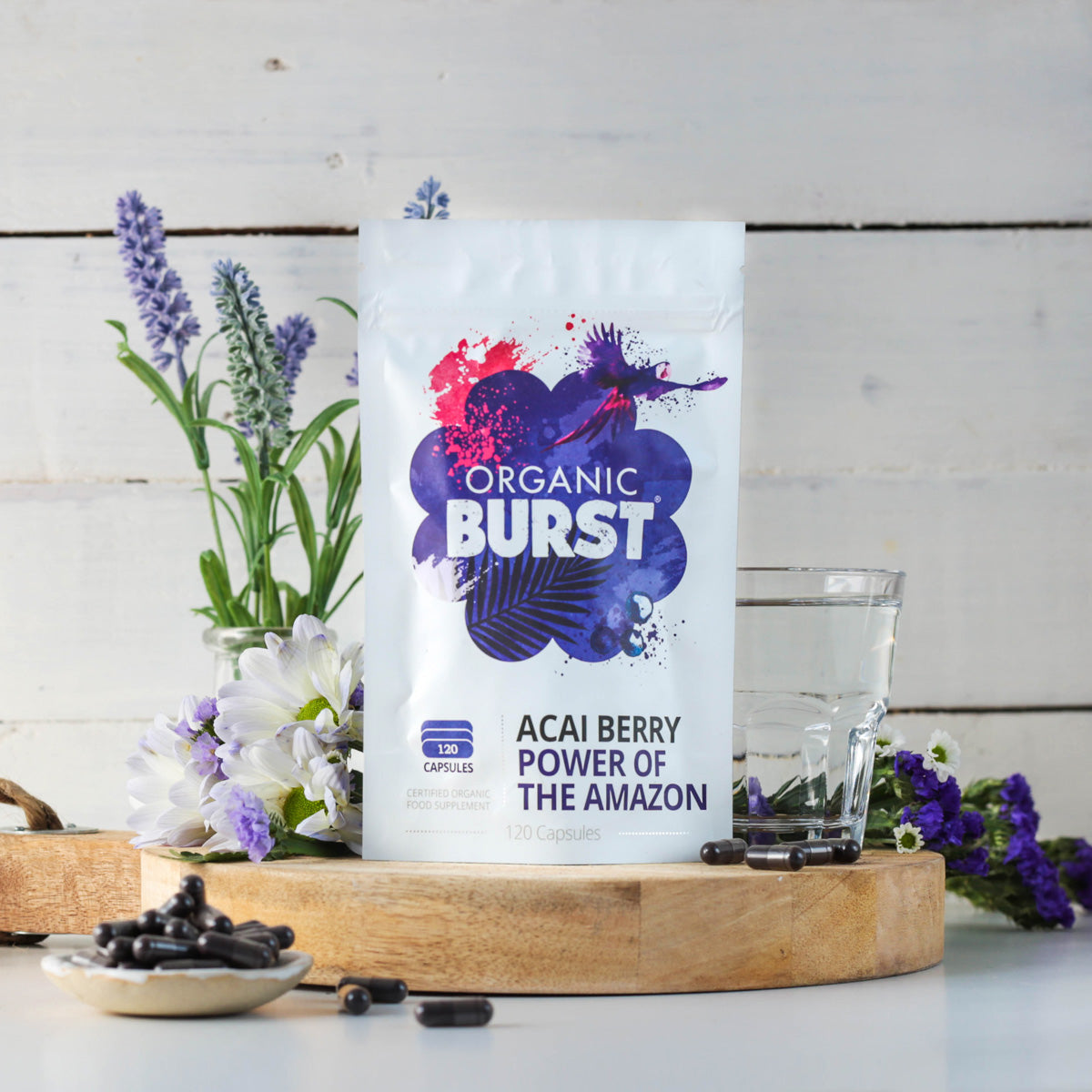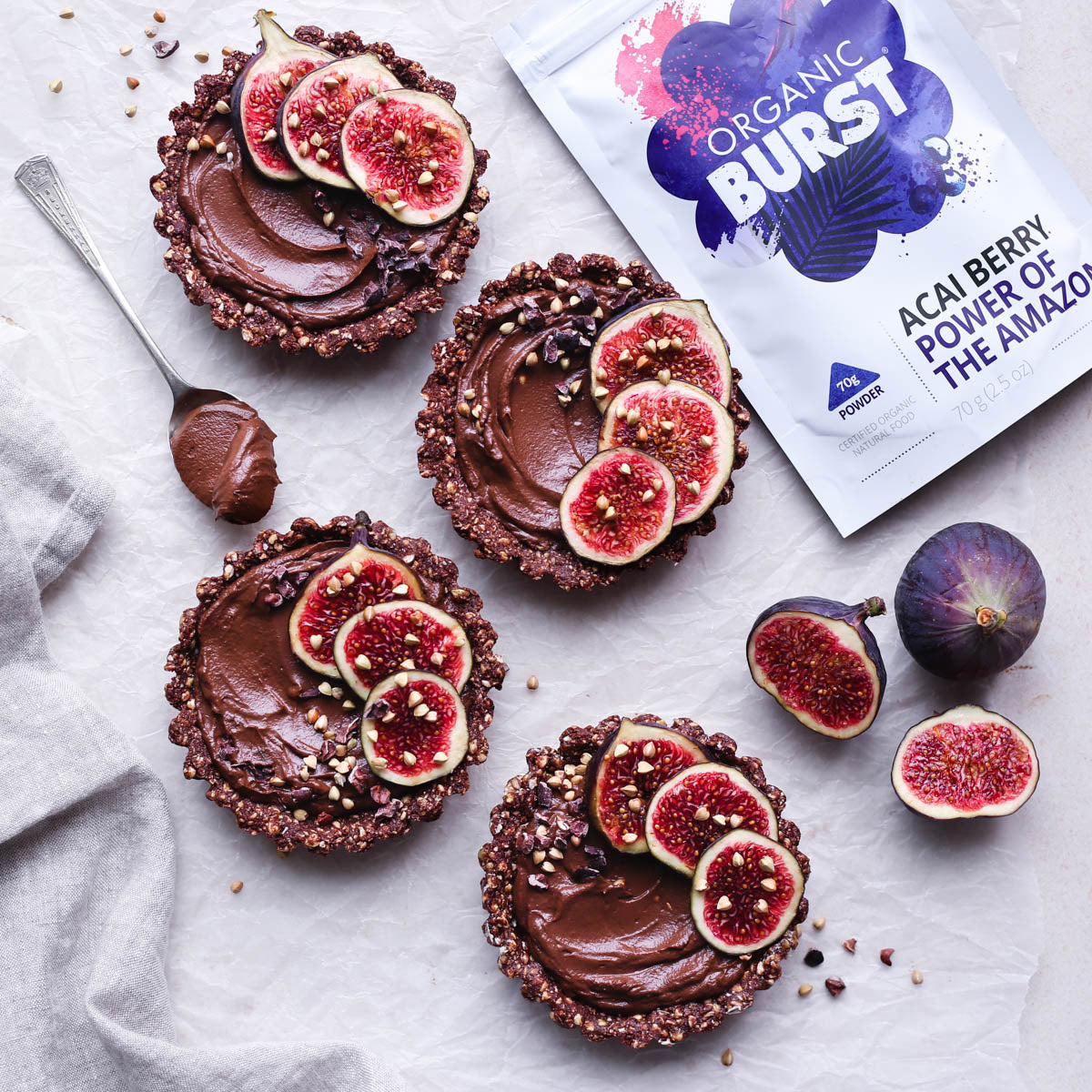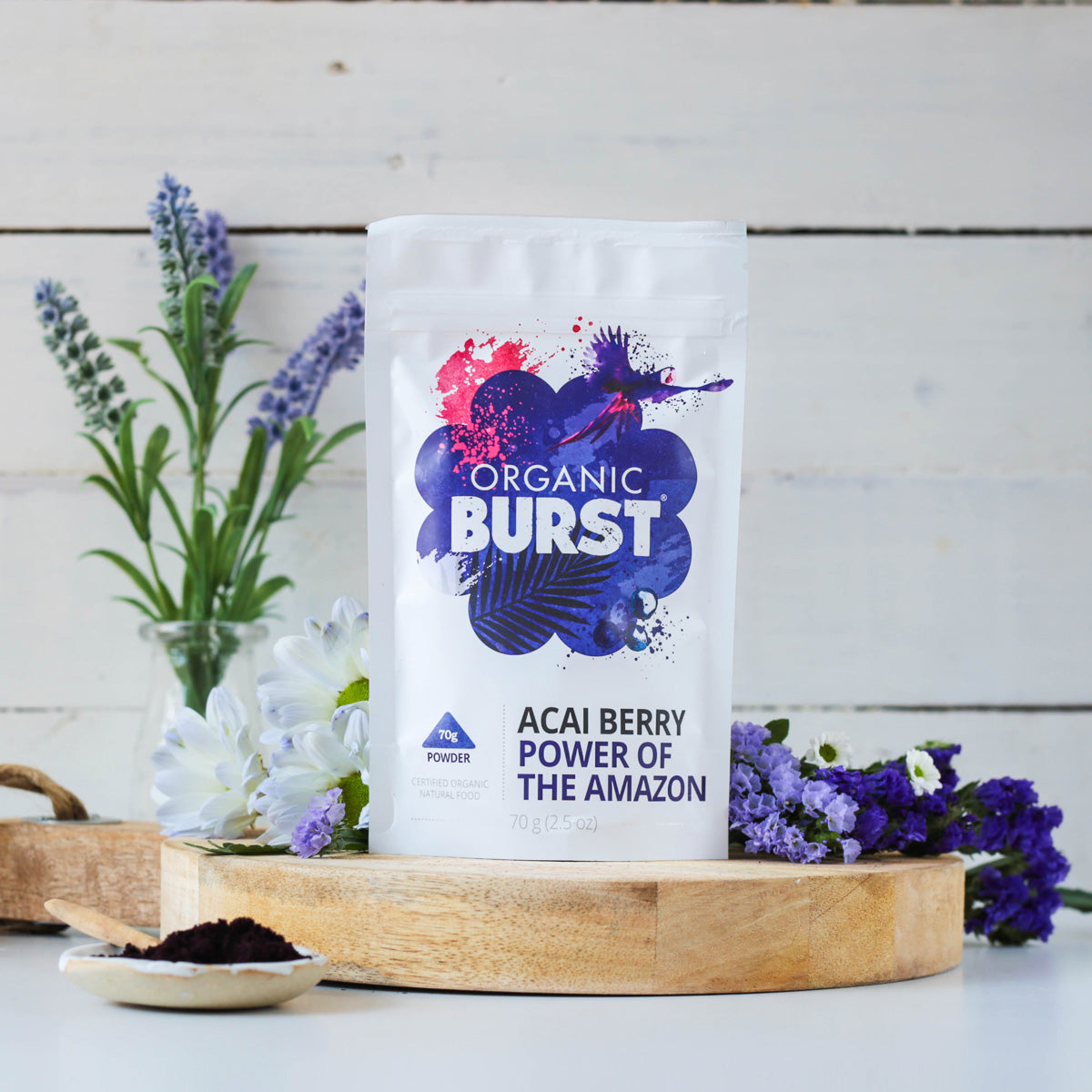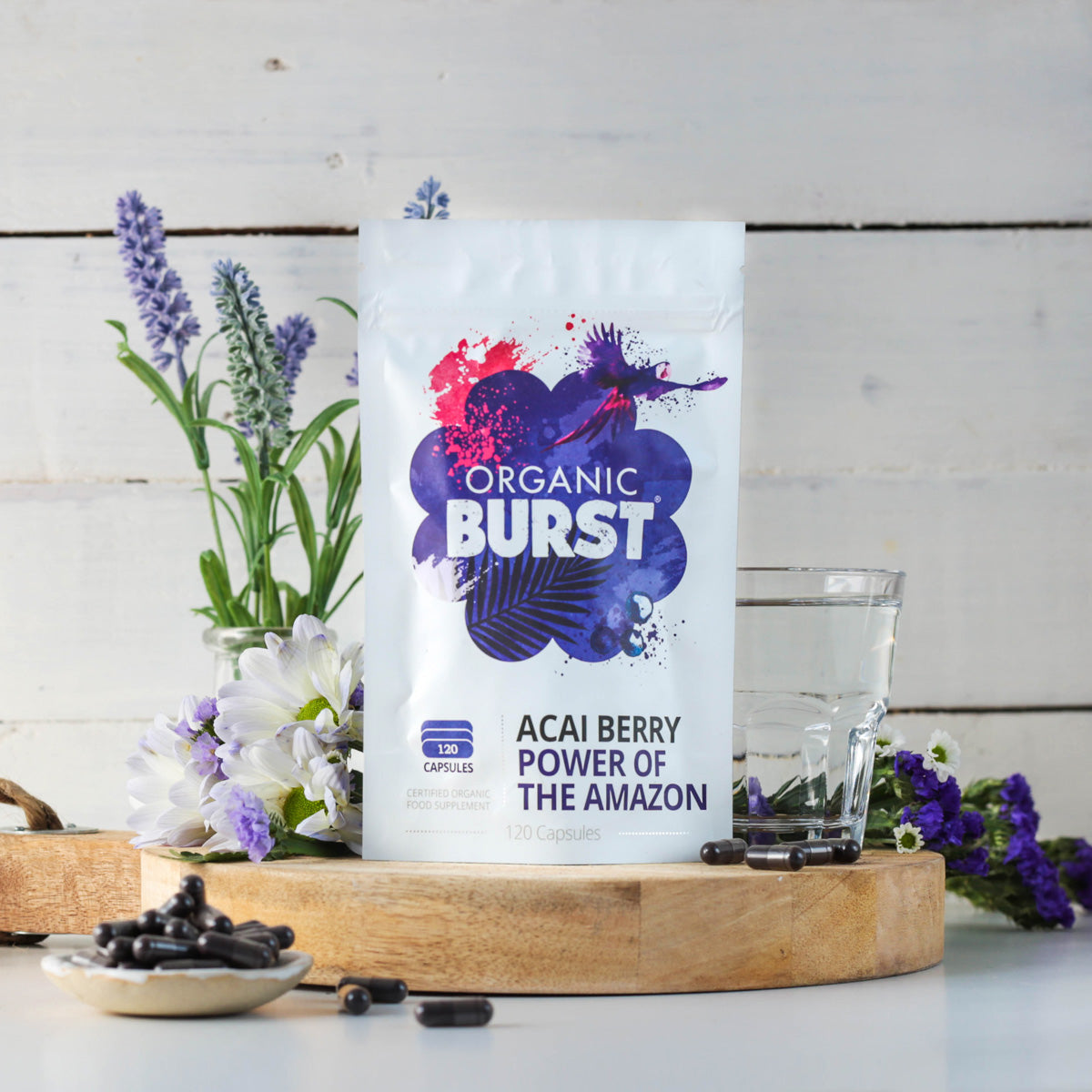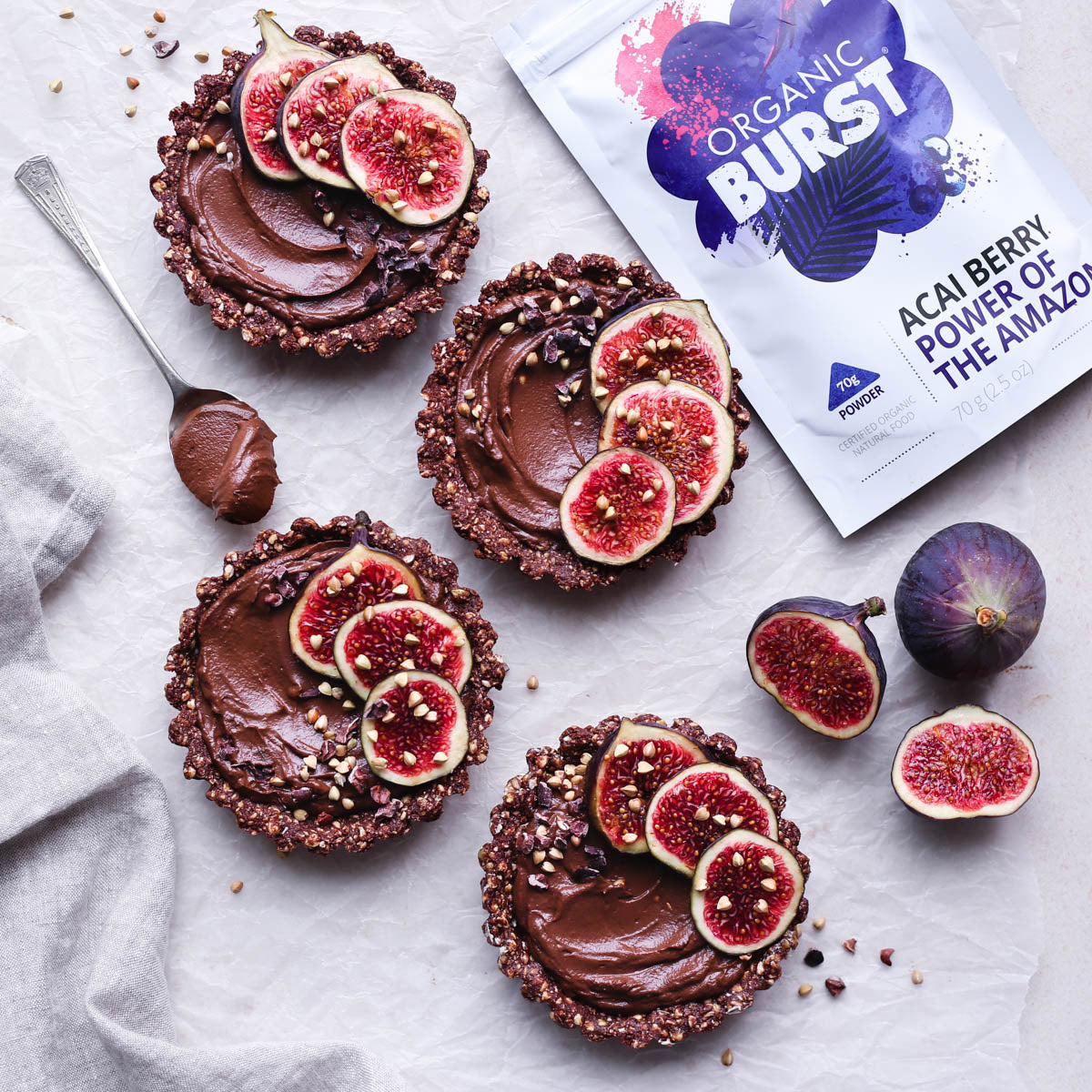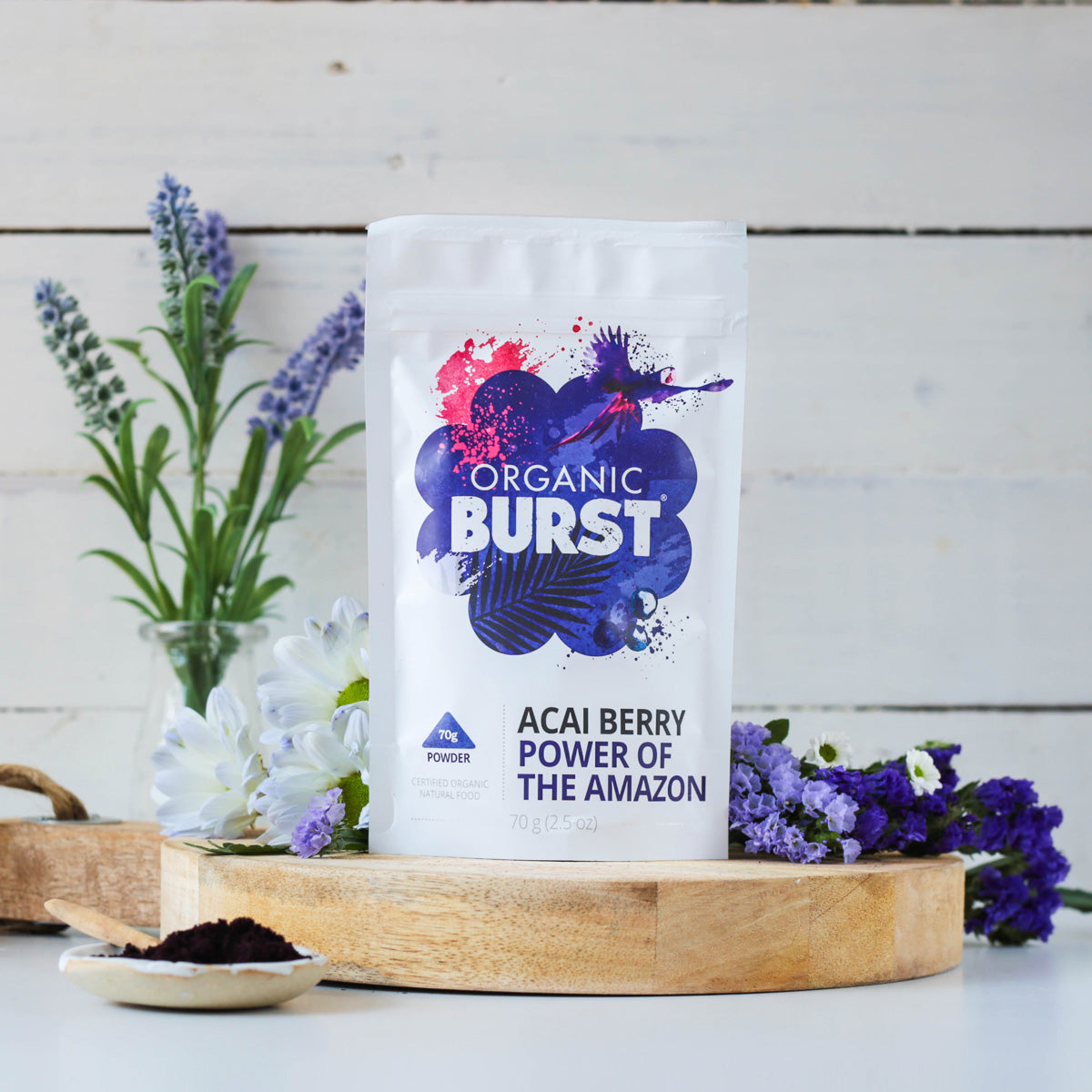 Get that golden glow, defend against pollution and grey city life and bounce back after exercise with this super-berry from the Brazilian rainforest.
From Brazil with Love

❤
...come on a journey to find the real "Tuira" Acai berry!
Follow our founders Dimi and Katya deep into the Amazon rainforest to discover what is "Tuira" Acai berry and meet our local harversters.
"

This Acai is Tuira...it is the top, the prime, the most unique one you can get..."
You'll
Love

How It Makes You Feel
Your Defence Against The Effects of Grey City Life
Your body is constantly attacked by environmental toxins such as chemicals, cigarette smoke, manmade as well as solar radiation. These attacks cause the production of free-radicals that damage your DNA and cause an effect of "rusting" in your body.
You need an adequate supply of antioxidants, powerful compounds that are able to stop this "rusting" reaction. With the powerful polyphenols in our acai berry and a super high ORAC (measure of antioxidant capacity) of 70,000, you'll be well looked after in any city!
Get That Golden Glow
If you're looking washed out after all those long hours and stressful deadlines, get your real radiance back with essential fatty acids omegas-3-6 and omega-9 oleic acid.


Bounce Back After a Workout
If you've had a tough workout, replenish with Organic Burst Acai Berry straight after and feel alive again the next day! It's recommended by the leading fitness experts worldwide for its antioxidant Vitamin E and polyphenols (that make it so purple).
"

I have tasted acai berry from two other different brands and this is by far the tastiest and to top it off its 100% natural. I will not go back to any other brand or ever stop buying this product because it has changed my body."

Michel, Highland
Why Our Acai
Really Works
Special Freeze-Drying For Ultimate Preservation of Nutrients
Acai Berries will perish literally within 24 hours of picking 😱 - losing all their powerful antioxidants and their oils will turn rancid 🤢! Our secret for preserving the precious nutrients and stoping the oils from turning bad is a special and timely 'freeze-drying' process.
No heat, chemicals or preservatives are used! Our Bursters always say our Acai is so much more purple than others and has an authentic taste - now you know why 🙌.
100% Pure With Zero Additives - Even in our Capsules!
We take a lot of care to ensure our Acai is of the highest quality so you don't have to worry about any nasties, binders, or fillers in there - even our capsules have no additional ingredients - only pure Acai powder🎉 unlike many others out there!
Even our veggie capsule themselves are made of plant cellulose (imagine those fibres in your celery!) They're so pure they dissolves quickly in liquids so you can even throw them into a blender with your smoothie.
Watch How Your Acai Is Harvested...
A Deep Nutty Flavor
Due to its low sugar content, it's not especially sweet (all the more healthy!), but blends brilliantly with other berries and is incredible in porridge or yoghurt. Yum!
Direct Trade
...only from small ethical cooperative farmers in Brazil
Changing Lives of The Acai Harvesters & Their Families in the Amazon
Organic Burst Acai is harvested by the amazing local people that live (and thrive!) in the jungle of the Brazilian State of Para - they actually own and harvest their own Acai trees!
Thanks to all of you Bursters, these awesome local harvesters (acai entrepreneurs!), can now gain life-changing income for their families (and get paid 10x more per basket than they used to before!).
Many of our harvesters have built better homes and are now able to provide their children with good education.
Saving Our Precious Acai Rainforest
Our Acai Rainforest Is Now Protected From Deforestation
Thanks to all you Bursters enjoying your Organic Burst Acai and increasing the demand for ethical Acai - the majestic palm trees are no longer being chopped for 'palmitos' (palm hearts)! They are now under protection by the government - how amazing is that!
The forest has been left to the indigenous communities in its entirety who make a living from harvesting the Acai that grows on their palms. This preserves the precious trees, the emerald forest and saves the habitat of an amazing variety of plants and animals!
Truly Caring for the Jungle
...and its wildlife every single day!
Throughout the whole year our harvesters take care of the Acai rainforests with so much love and devotion. In return the rainforest brings them great benefits and incredible changes to their daily lives.
They only pick a certain amount of Acai at one time, always leaving enough berries for the small wild animals (that co-habit the rainforest) to feed on. The colorful toucans who eat the berries - spit out the seeds while in flight spreading the gracious palms across larger areas.
How To Take?
Pure
Take 4-8 capsules with a glass of water. Try keeping a pouch always close by to remind you to take them during the day!
Super Charge
Already having a smoothie, juice, a workout-shake, porridge, yoghurt? Add 1 teaspoon Acai powder to give it a powerful purple super charge!
...Or Get Creative!
We have loads of delicious free Acai recipes for you to get adventurous with! The kitchen will never be the same again!
...for more yummy Acai recipes check out Choc & Juice, our online world of wellbeing.
When To Take
Easy
The most important thing is to take your Acai consistently and daily - don't worry whether this is in morning, afternoon or evening. Just take 1 serving with any meal.
Pro
Feeling like a superfood pro? Then let's start some optimization!
FITNESS: Take 1-2 servings (4-8 capsules) right after your work-out to restore your nutrients and decrease muscle soreness.
BETTER SKIN: Take 1 serving (4 capsules or 1 teaspoon powder) at bedtime to help replenish overnight and wake up with a golden glow.
TRAVELING: Take 1 serving when you arrive at your destination to protect you from free-radical damage due to pollution and fumes.