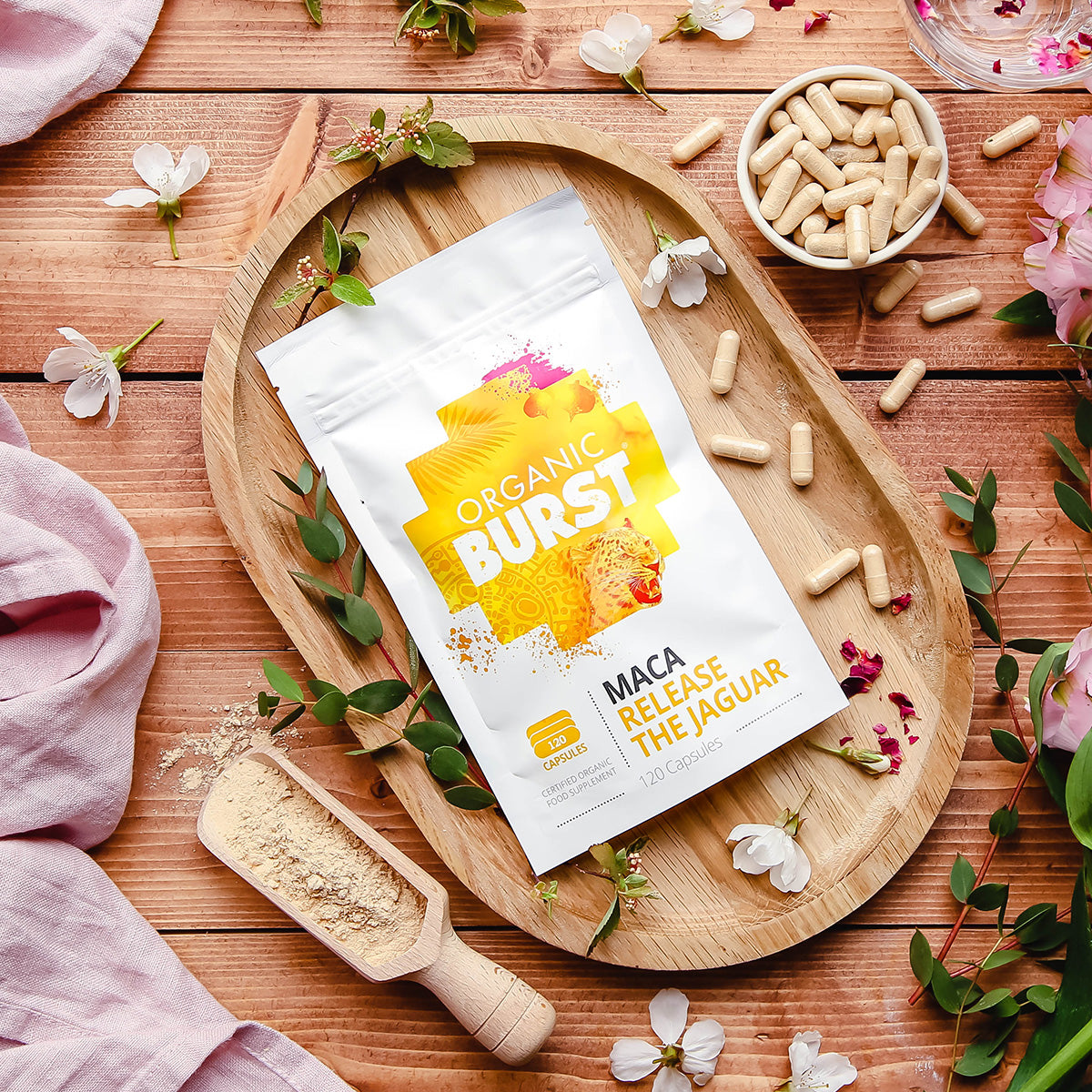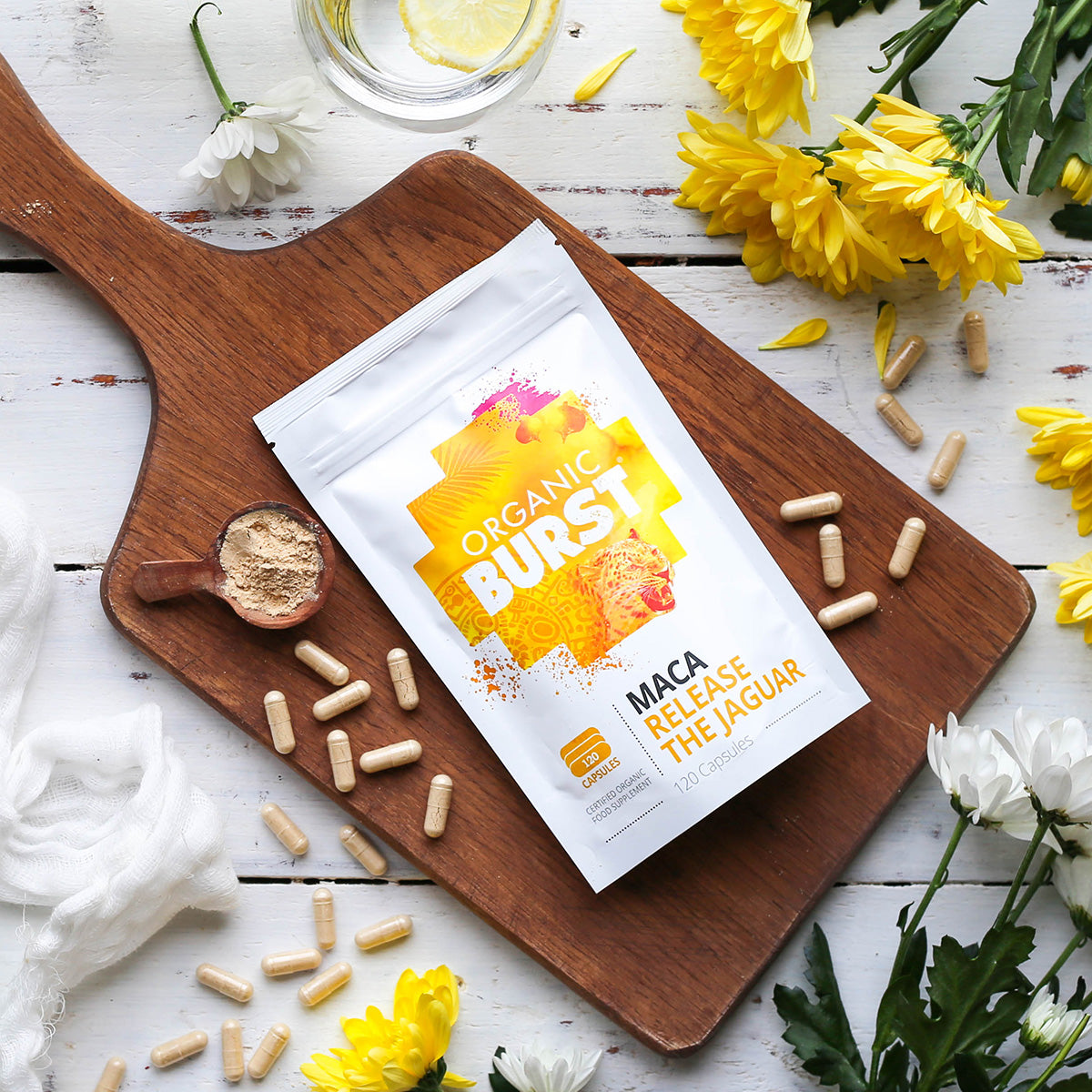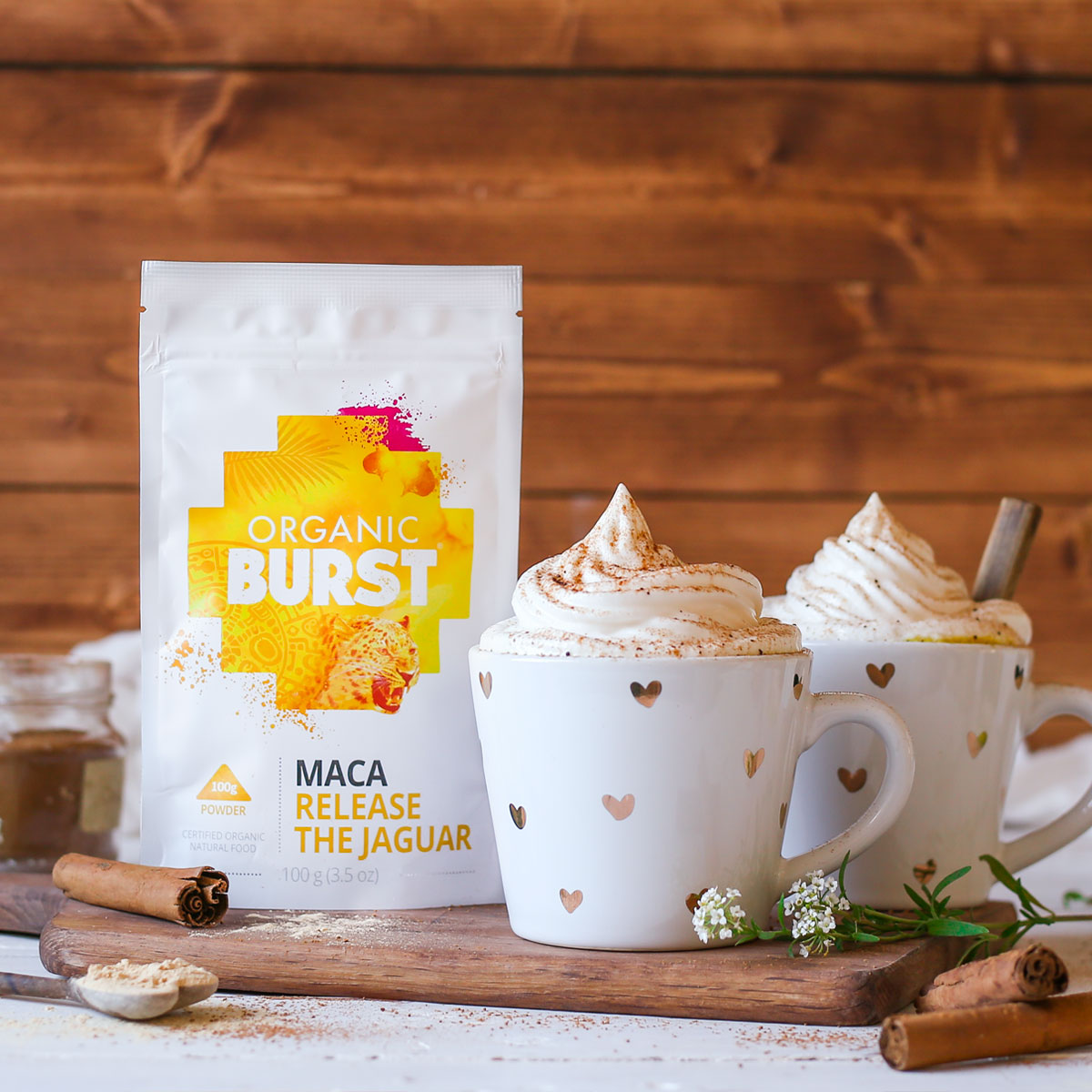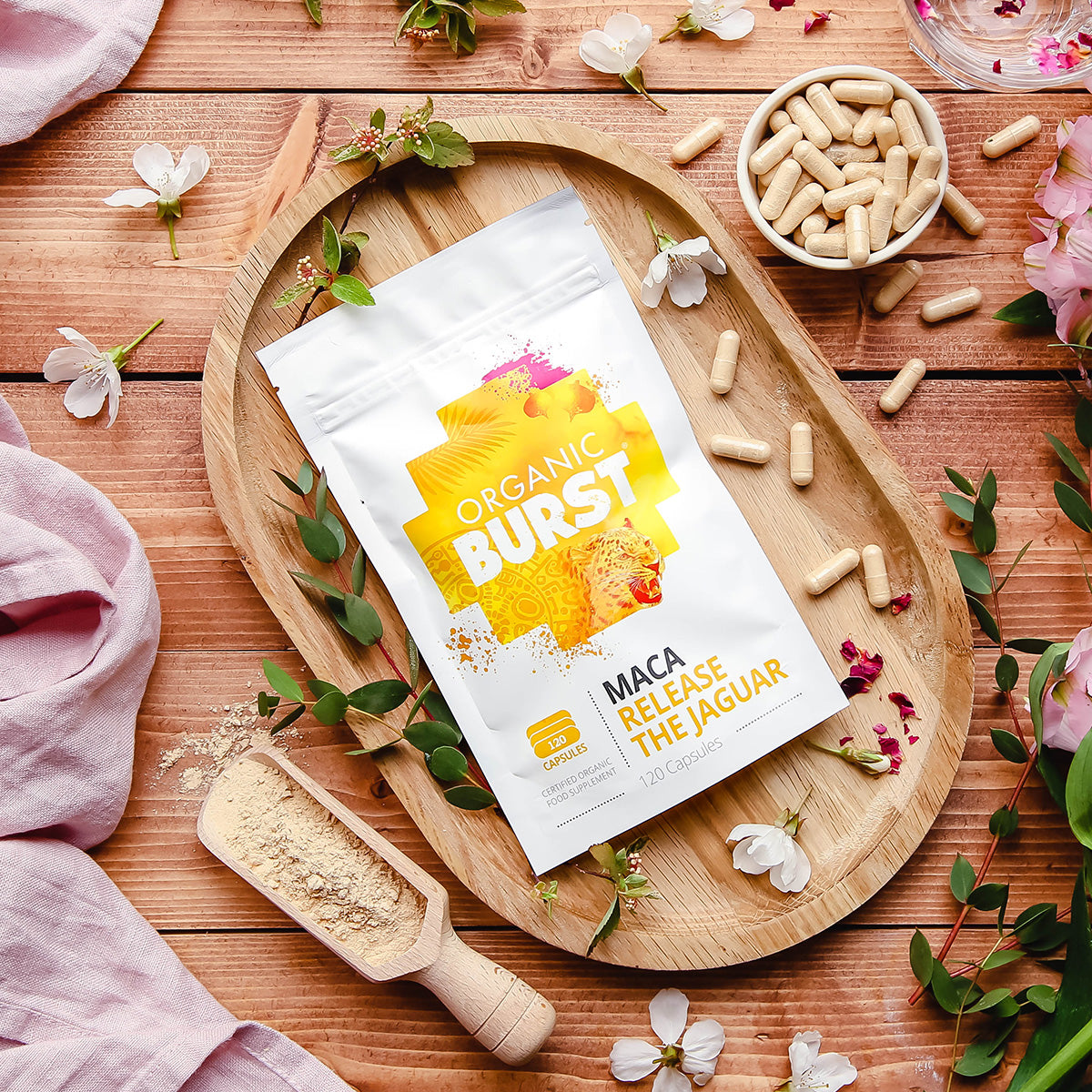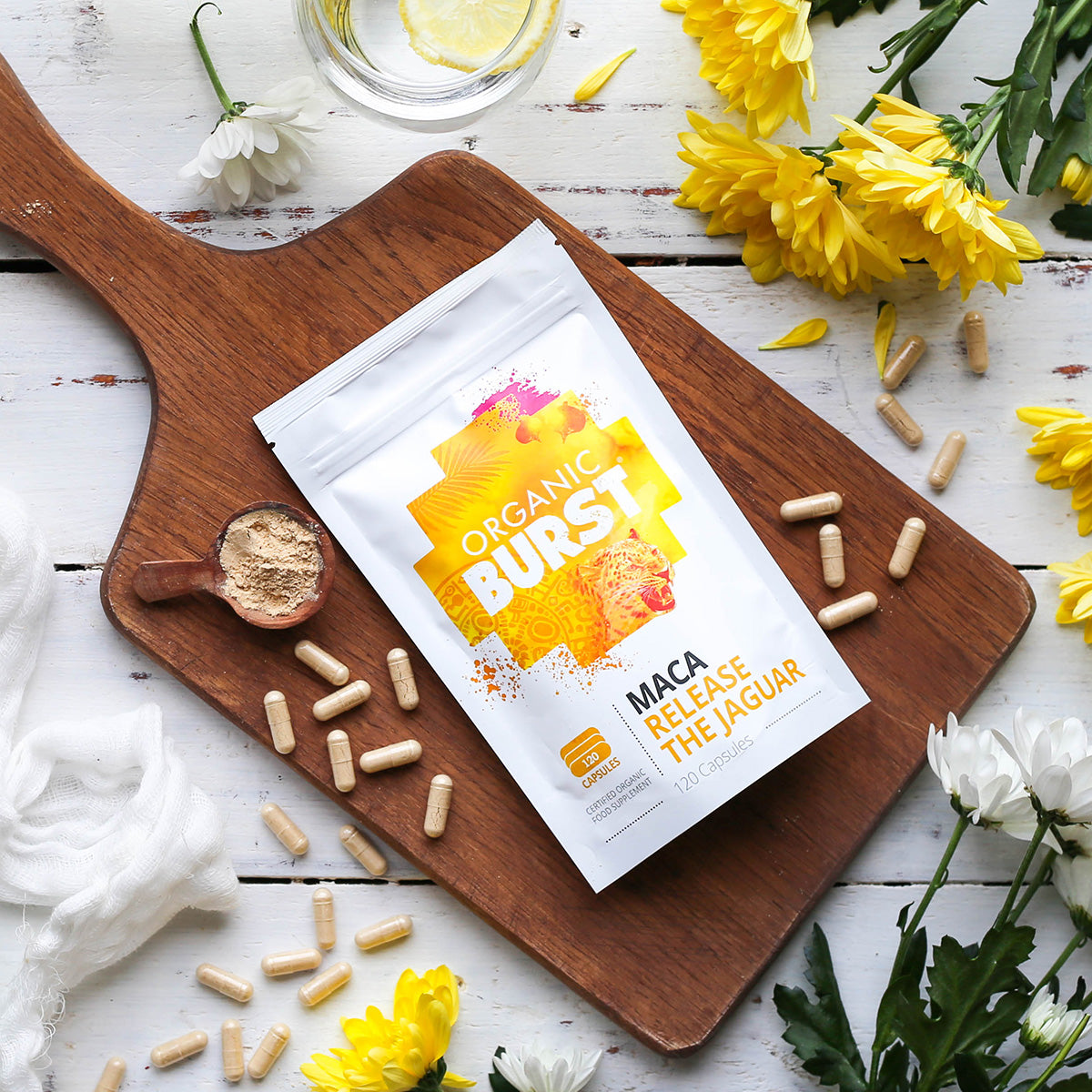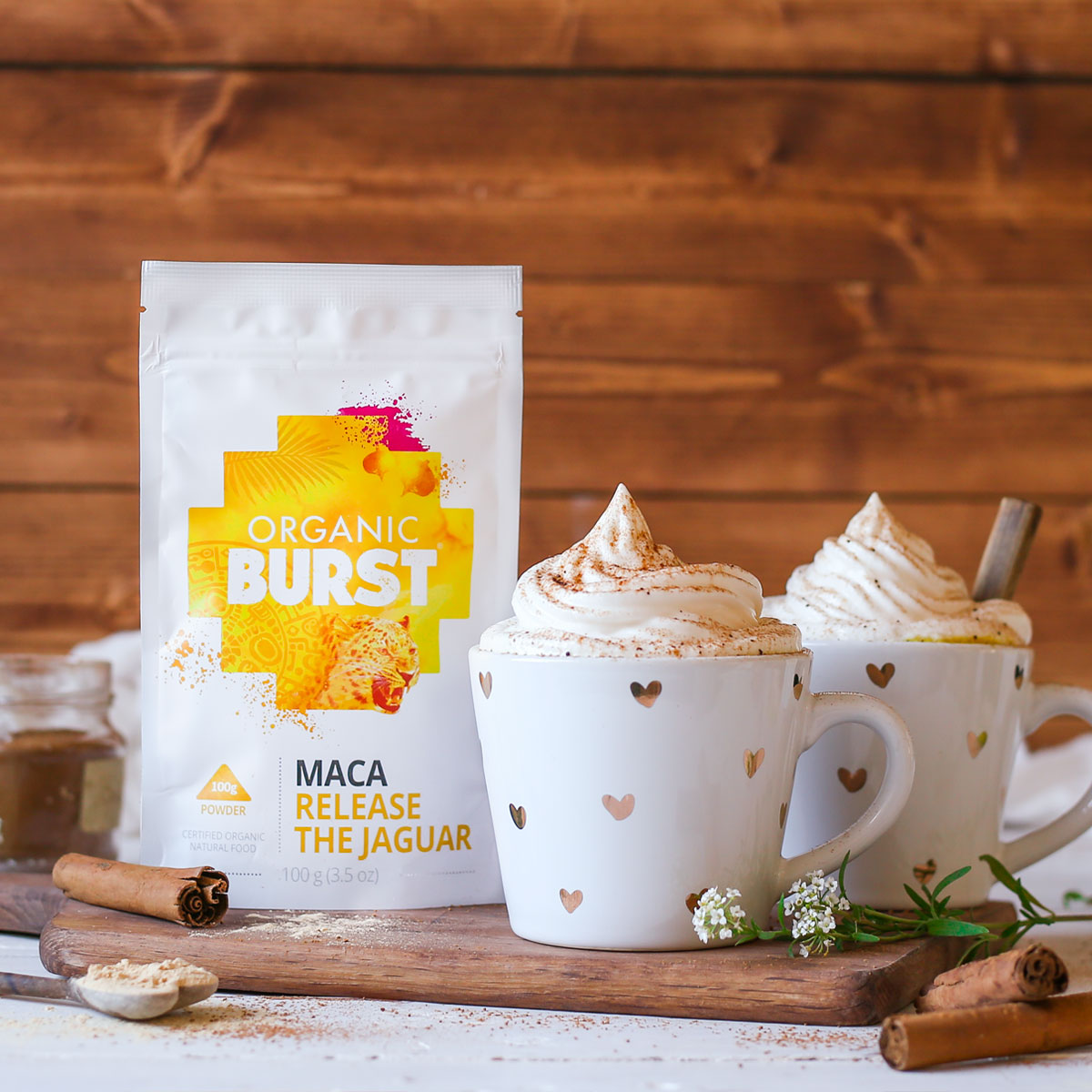 A powerful Peruvian root that helps balance hormones with no downside, boost libido & stamina and lower stress!
Our Maca is a unique mix of 4 Maca plant varieties combing the benefits of all 4! Hand-picked by an incredible indigenous community in the Peruvian Andes, sun-dried and fermented for the best taste and maximum effects.
Follow the Journey!
...and discover what makes the world's best Maca?
Follow our founders Dimi and Katya to over 14,000 feet above sea level, into the Peruvian Andes, to find the real ancient Maca, and meet our indigenous farming community. The lives of people here have improved dramatically thanks to all of you Bursters enjoying your Maca!
"

We've been eating Maca here since before the Inca... thanks to Maca we are strong and healthy... We are able to walk long distances to work and we do not need cars, this is the stamina we have here.
...we are glad to see you! We wish that with your support we'll be able to overcome all difficulties we face here… Gracias! Welcome, again!"
Juan, Chief of the Community Maca Fields


You'll
Love

How It Makes You Feel
Balances Your Hormones Naturally
Maca nourishes the pituitary gland, our master gland, to stimulate production of hormones at the correct levels for your body. It does not contain external plant oestrogens (that you find in yams, black cohosh and flax), so it cannot increase "undesired" hormones.
This was proven in a 2008 study where women's symptoms improved without any increases in their testosterone or oestrogen levels (Journal of Menopause).
Helps Couples Conceive & Boosts Libido
Traditionally in Peru Maca is taken by couples struggling to conceive and is used for fertility in both men and women.
Just ½ -1 tsp of Maca per day has been found to boost sperm motility and production (Asian Journal of Andrology, 2001). Plus, it has well-known aphrodisiac effects!
"

I have always had very irregular periods... [Maca] helped me get my hormonal and skin problems under control...Last week...I found out we are expecting our first child"

@mir.ela_medo on Instagram
Clears Hormonal Breakouts
Breakouts on your cheeks, jawline or chin are usually caused by hormonal imbalances: an excess of androgens and/or too little oestrogen that result in an overproduction of sebum (oil). Maca helps the body produce hormones at the correct levels for clearer skin.
A Game-Changer For Awful Periods
If you're on the floor with pain around that time of the month, Maca can help you function again. It helps the body produce the right amount of the correct hormones needed to have normal, easy periods.
"

I have PCOS & just started using this Maca. It is a GAME CHANGER!! This was easily the calmest monthly cycle I've had in years! I almost forgot I had it - which is nothing short of miraculous for me."

@lola_lepaon___on_patreon__ on Instagram
Gives You Strength & Stamina
Inca warriors ate Maca before going into battle! It is one of the only plants capable of thriving in the barren growing conditions of the Peruvian Andes, the stamina needed to survive is passed on through the plant.
Energy & Endurance For Your Workout
Maca nourishes the adrenal glands, helping you produce the natural cortisol and adrenalin needed for optimal energy. Choose Maca instead of caffeine supplements that deplete the body's nutrient stores.
"

I have the worst Adrenal fatigue from PCOS, I don't have enough energy to keep my eyes open sometimes but I take two capsules of the Maca and it helps me significantly. I can focus and have energy to get up and go about my day."

Ruzanna @iamruz on Instagram
Helps Irregular Periods, Excess Facial & Body Hair
High testosterone levels in women can trigger these symptoms, along with lack of periods, hair loss (from the head), sub fertility and acne – collectively known as polycystic ovary syndrome (PCOS). By nourishing the pituitary gland, Maca can help reduce excess testosterone production.
Tackles Hormonal Hair Fall
Thinning hair and balding spots in women can be due to an overproduction of male hormones – androgens, and too little progesterone. Maca nourishes and stimulates the entire hormonal system to get back into balance.
"

...Once I started taking Maca, my energy came back, my emotions stabilised and best of all, my hair stopped falling out!"

Rachel @racht0326 on Instagram
Freedom From Hormonal Headaches
Headaches can be caused by an imbalance in the ratio of female hormones: oestrogen to progesterone. Maca acts on the pituitary gland to stimulate the ovaries and adrenal glands to produce hormones at the correct ratios for your body.
Gets To The Root Of Stubborn Belly Fat
If you're struggling to lose weight, particularly around the middle, Maca can help. Maca has been shown to reduce cortisol levels – the hormone that is elevated when we're under stress and encourages abdominal fat deposits.
"

I am finally starting to see a difference in my belly fat caused from extreme stress and I believe hormonal imbalance. I swear by my Maca!"

Heidi @heidilfranks on Instagram
Helps Normalise Your Sleep Rhythm
If you're struggling to fall sleep or are waking through the night, you may have elevated evening cortisol as a result of a stressful lifestyle. Here Maca can help to usher in sleep as its effects can lead to "a significant decrease in blood cortisol levels in a short and long term trials" (International Journal of Biomedical Science, 2006).
Calms Anxiety, Mood Swings & Irritability
If you feel emotionally unbalanced around your period, you can help these PMS-related symptoms with Maca.
It works on our master gland (the pituitary) to stimulate the ovaries and adrenals to produce enough progesterone and allopregnanolone, and regulate excess oestrogen and/or testosterone.
"

Maca is amazing, eliminated 90% of the PMS symptoms I was getting, definitely balanced out my hormonal moods and throughout the month I feel calmer with less anxiety, it's brilliant stuff"

@chlolovesclothes on Instagram
Get Relief From Hot Flashes & Night Sweats
Maca's balancing effects are extremely effective for menopausal symptoms. In one study, 2/3 of a teaspoon of Maca daily "relieved symptoms of menopausal discomfort, (hot flushes and night sweating in particular)" (International Journal of Biomedical Science, 2006).
Handle Stress Better
Maca root works as an adaptogen - defined as a class of plants that strengthen the body - physiologically and emotionally, bringing it to a higher state of resistance in the face of stress.⁠It nourishes the adrenal glands and has been found to lower excess cortisol.
"

...helped me tremendously to lower my stress levels"

Monica @oriannasmommy on Instagram
Why Our Maca
Really Works
A Unique Blend of 4 Plant Varieties
Our unique blend is a combination of white, red, black and purple Maca varieties. This mix has been perfected over 3 centuries by our family growers.
Each of these varieties have their own benefits, so our blend is a mix of them all! This is why the effects are so impressive and it doesn't throw your body out of balance.
Real Maca From Huancavelica, Peru
Our Maca comes from the Huancavelica region high up in the Peruvian Andes. The conditions here are so difficult that no trees or even bushes can grow!
The soil is a deep black, saturated with nutrients + the harsh climate makes for an extremely mighty and powerful little Maca root!
Especially Tasty
Malty with Hints of Caramel - Not Bitter!
We continuously hear from our customers how our Maca is not bitter like others but slightly sweet, rooty, earthy and caramel-y 😋.
That's all because of the dark black nutrient-dense soil it grows in, the traditional way it is harvested by hand and the unique, centuries perfected, blend of 4 Maca plant varieties - white, purple, black and red!
Join thousands of Bursters who love creating both sweet and savoury recipes with it for that extra boost.
Try with porridge, yoghurt, nut mylks, in soups or even curries (scroll down for some recipes)!
Direct Trade
Hand-Picked by a Unique Indigenous Farming Community
Supporting Indigenous Communities in the Poorest Region of Peru
Organic Burst Maca is cultivated on a land fully owned and harvested by a community of 120 indigenous families, direct descendants of the Inca who still speak the language of the Inca - Quechua - and have preserved their unique traditions, culture and national dress. They live at extreme altitudes of 13,000-14,500 ft (4,000-4,300 m) above sea level in Huancavelica, the poorest province of Peru with very few opportunities.
Creating Hundreds of Jobs, Improving Diets and Reunited Families
Organic Maca cultivation has provided an incredible support for this community, creating over 300 jobs, improving their diets and livelihoods and reuniting families as the younger generation is coming back here to work together with their parents. There is so much barren land around that many more jobs are set to be created here now and nearby communities are wishing to join too!
These life-changing improvements to this community are possible thanks to our Bursters enjoying the goodness of their Maca! Together we can help change more lives!
A Clean Environment
...at Extreme Altitudes High In The Andes Mountains
Organic Burst Maca is cultivated organically on indigenous community-owned land at extreme altitudes of over 14,000 feet above sea level up in the Peruvian Andes. Here there is no industry or pollution and you can be sure that you are only getting the very best Maca!
How to Take?
Pure
Simply take 4 capsules with a glass of water or stir 1 teaspoon powder into water or any nut mylk of your choice. It tastes malty, and slightly earthy, with hints of caramel!
Super Charge
Simply add 1 teaspoon of your Maca powder to super charge your smoothies, pre-workout shakes, yogurts, pancake batter or even add into your soups!
Or... Get Creative!
We have loads of delicious free Maca recipes for you to get adventurous with! The kitchen will never be the same again!
...for more yummy Maca recipes check out Choc & Juice, our online world of wellbeing.
When to Take?
Easy
The most important thing is to take your Maca consistently and daily - don't worry whether this is in morning, afternoon or evening. Just take 1 teaspoon powder or 4-8 capsules with any meal.
Pro
Feeling like a superfood pro? Then let's start some optimization!
HARD DAY AHEAD: Take 1 serving (1 teaspoon) in your breakfast or simply with a glass of water at breakfast to get an extra boost of endurance for your day.
FITNESS: Take 1 serving (1 teaspoon) before your work-out for extra strength, stamina and endurance.